Credit Card Convenience Fee
Jacksonville State University is committed to providing a range of payment options to students. JSU has historically absorbed the costs associated with credit card transactions. After careful evaluation and consideration, the merchant fees associated with processing credit card payments for student account payments are prohibitively expensive. Therefore, as of December 12, 2022, a 2.85% credit card service fee (minimum fee $3.00) will be added to any credit or debit card payment made online using MyJaxState.
Jacksonville State University does not receive any proceeds from this service fee.
The non-refundable convenience fee is determined and assessed by our third-party payment processor TouchNet via their PayPath service. This fee will appear as a separate charge on your credit card statement and may post at a later date.
Frequently Asked Questions
JSU offers several user-friendly methods of paying student account fees for those who choose not to use a credit or debit card online.
1. Online – Payment can be made by eCheck utilizing a checking or savings account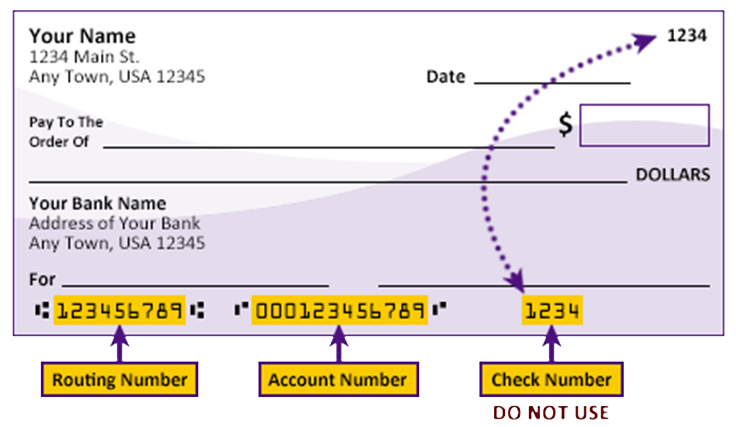 Please enter your banking information as shown in the example above.
Routing number - always comes first and is exactly 9 digits.
Account number - varies in length. May appear before or after the check number. Include any leading zeros, but omit spaces and non-numeric characters.
Check number - is not needed. Do not include the check number.
It is important to enter your banking account information accurately, or your payment cannot be successfully completed. If you have questions, please contact your bank.
2. In Person – The Office of Student Accounts will accept cash, check, money order, and credit/debit card payments at the cashier window. The cashier window is located on the 2nd floor of Angle Hall. 
3. Mail - Please include the Student ID Number when mailing any check or money order payment to:  
Jacksonville State University
Office of Student Accounts
700 Pelham Rd Nth
245 Angle Hall
Jacksonville, AL 36265
Payments must be received no later than the published due date.
Yes. If you use your debit card in the credit card payment option to pay your student account charges, you will be charged the 2.85% service fee.
No. For security purposes payments will no longer be accepted by phone or via mail.
Yes. You may establish any person as an authorized user through your MyJaxState portal. Payment can then be made online by credit card and the 2.85% service fee will apply.
Log in to your MyJaxState account.
Choose "View Account/Make Payment."
Choose the "Authorized User" tab from top menu.
Choose "Add an Authorized User."
Enter the email address of the person you would like to designate as an authorized user. Choose the features you would like this user to have access to on your account.
Click "Add User."
Before the user is added, you must check "I Agree" to the following statement:
I hereby authorize Jacksonville State University to grant Authorized User Email Address full access to my accounts, including ability to view all monthly statements, and/or make payments accordingly. My payment methods, credit card and/or checking account information, will remain confidential and hidden from all other users. I understand that I am still primarily responsible for ensuring that all my accounts are paid on time and in full.
If any person is unable to process payment online, or unwilling to pay the convenience fee, they can mail a check or money order to the Office of Student Accounts. Payments must be received no later than the published due date. They can pay in person with cash, check, money order and credit/debit card at the cashier window, located on the 2nd floor of Angle Hall.
No. The 2.85% Service fee is non-refundable even if the payment to which it relates is canceled, refunded, credited, charged back or in error.
No. The fee will not appear on your student account. The Service fee is assessed by the third-party company, TouchNet PayPath, and will appear on your credit card statement only as a separate line item.
No. JSU will accept credit card payments without a service fee for non-student account payments. Some of those fees include admission application fees, housing deposits, transcripts (purchased on campus only), library fees, testing fees, and institutional loan payments.
Yes, there is an increasing number of schools who have made a similar transition. Some of the schools no longer accept credit cards at all.