Adult-Gerontology Acute Care Nurse Practitioner (AGACNP) Doctor of Nursing Practice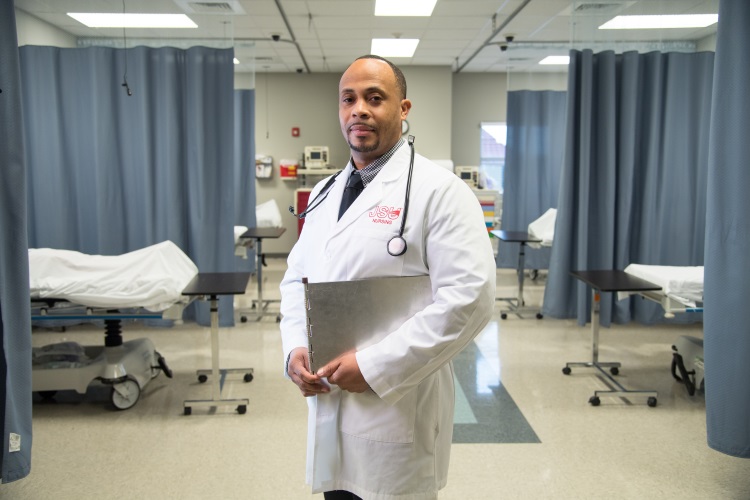 Each applicant must satisfy minimum requirements for admission to graduate studies.
A completed graduate studies application
Official transcript with cumulative grade point average (GPA) of 3.0 on a 4.0 scale in the baccalaureate nursing program or the last 60 hours of baccalaureate nursing program (the higher of the two).
Undergraduate science courses satisfy a minimum GPA of 2.5 on a 4.0 scale.
Baccalaureate Degree in Nursing from a regionally accredited institution certified by a National Accreditation Agency.
Current unencumbered licensure as a registered nurse in the United States.
Current resume or curriculum vitae
Three recommendation letters (from individuals such as work supervisors, professional colleagues, and former faculty members who hold a minimum of a Master's level degree)
Favorable recommendation from the DNP admissions committee.
Optional requirements of the Admissions Committee may contain the following for further evaluation.
A typed statement of purpose written by the applicant
Professional interview with the admission committee member(s)
Graduates of the AGACNP track are academically qualified to meet the eligibility requirements to take the Adult-Gerontology Acute Care Nurse Practitioner Examination sponsored by the American Nurses Credentialing Center (ANCC) and/or the ACNPC-AG Examination sponsored by the American Association of Critical-Care Nurses (AACN). Adult-Gerontology Acute Care Nurse Practitioners also are licensed by the states in which they practice and are subject to the rules and regulations of that state's practice act.
Jacksonville State University
College of Health Professions and Wellness | JSU Nursing
Adult -Gerontology Acute Care Nurse Practitioner BSN-DNP Plan of Study
Fall Year 1
NU702 BSN-DNP Online Orientation (0)
NU708 Evidence-Based Practice and Quality Improvement in Health Care (3)
NU712 Clinical Prevention & Population Health (3)
Spring Year 1
NU613 Physio-pathological Basis of Advanced Nursing (3)
NU713 Organizational & Systems Leadership for APN (3)
Summer Year 1
NU620 Pharmacology for Advanced Practice Nurses (3)
NU710 Healthcare Policy & Finance (3)
Fall Year 2
NU607 Advanced Health Assessment (3)
NU707 Scientific Underpinnings of Advanced Nursing Practice (3)

Spring Year 2
ANP668 Adv Adult Gerontology Acute NP I (3)
ANP669 Adv Adult Gerontology Acute NP Practicum I (70 Clinical Hours) (1)
ANP671 Health Promotion/Disease Prevention & Issues for ANP (2)
Summer Year 2
ANP672 Adv Adult Gerontology Acute NP II (3)
ANP673 Adv Adult Gerontology Acute NP Practicum II (210 Clinical Hours) (3)
Fall Year 3
ANP674 Adv Adult Gerontology Acute NP III (3)
ANP675 Adv Adult Gerontology Acute NP Practicum III (210 Clinical Hours) (3)
Spring Year 3
ANP676 Adv. Adult Gerontology Acute NP IV (3)
ANP677 Adv. Adult Gerontology Acute NP Practicum IV (210 Clinical Hours) (3)
*At this point students will receive their MSN and continue the next four semesters to earn their DNP
Summer Year 3
ANP796 Adult Gerontology Acute NP Project Planning & Development (3)
NU716 Interprofessional Healthcare and Informatics (3)
Fall Year 4
ANP797 Adult Gerontology Acute NP Residency I (210 Clinical Hours) (3)
NU711Biostatistics and Translating Evidence (3)
Spring Year 4
ANP798 Adult Gerontology Acute NP Residency II (210 Clinical Hours) (3)
NU715 Innovative Leadership and Collaboration in Healthcare (3)
Summer Year 4
ANP799 Adult Gerontology Acute NP Residency III (210 Clinical Hours) (3)
Total Credits-69