University Mourns Professor Emeritus
09/12/2023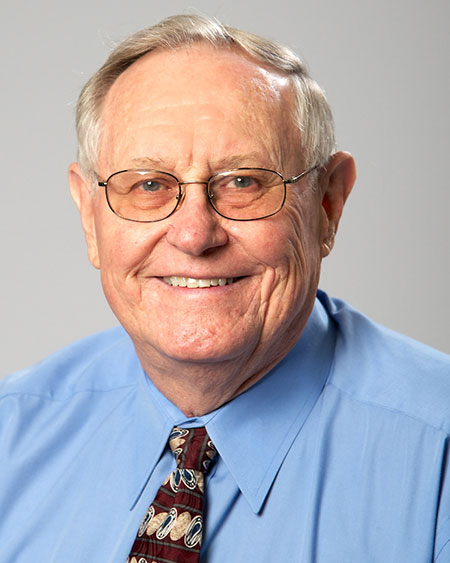 Dr. Jerald Abercrombie in September 2012, in his last official JSU headshot before retiring in 2014. Photo by Steve Latham.
by Buffy Lockette
Dr. Jerald Abercrombie, Professor Emeritus of Mathematics, passed away on Sept. 8. He was 81.
"Dr. Abercrombie was a lifelong educator, who made a positive impact on generations of students over his long tenure at JSU," said President Don C. Killingsworth, Jr. "Although he was a man of great stature, he carried himself with warmth and kindness. He will be deeply missed by all who knew him."
Native to Blountsville, Ala., Abercrombie earned a BS in secondary education with a concentration in mathematics from Jacksonville State in 1964. He pursued his graduate education at the University of Alabama, where he was awarded an MS in mathematics in 1966, followed by a Ph.D. in mathematics in 1970.
After earning his Ph.D., Abercrombie returned to JSU in 1970 as an associate professor of mathematics. He was promoted to full professor in 1983. Following his retirement in 2014, he was awarded professor emeritus status.
Dr. Abercrombie's accomplishments included serving as president of the Alabama Association of College Teachers of Mathematics and chairing the Northeast Alabama Regional Science Fair. He was also named Teacher of the Year of his college.
A recognized leader of mathematics education, he served on the advisement committee that developed the geometry course of study for the Alabama Department of Education. He also assisted the state in setting standards for math teacher certification tests, and was often called upon by area principals seeking recommendations for secondary math teachers.
"I knew Jerald Abercrombie first as a colleague of my parents at JSU and also at church," said Dr. David Dempsey, mathematics professor, whose parents both retired from JSU." When I became a student at JSU and took several classes with Dr. Abercrombie, I discovered why he had such a huge influence on his students. He had high expectations - especially for those who planned to be educators - but he worked just as hard as he guided us along the road to understanding. When I became his colleague, I learned that he was just as generous with his time and wisdom to help new faculty learn the ropes. He was always encouraging, always smiling, and he never gave up on his 'people' - which was pretty much everyone he met."
Dr. Abercrombie is survived by his wife of 54 years, Peggy, with whom he shared three children and their spouses, as well as three grandchildren. He was a longtime member of First United Methodist Church of Jacksonville and enjoyed farming, watching Western films, and horse and buggy rides.