JSU Moves Up in Annual US News Rankings
09/21/2023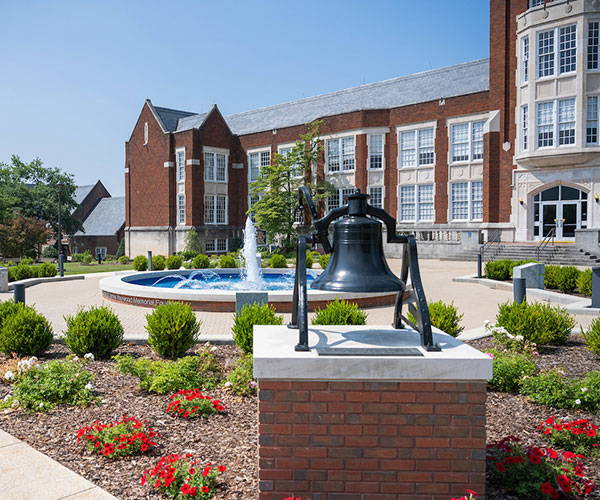 The courtyard of JSU's main administration building, Angle Hall. (JSU photo)
by Buffy Lockette
US News & World Report released its annual rankings of Best Colleges this week and Jacksonville State has made a significant leap – moving up 10 spots to No. 64 among Best Regional Universities in the South.
In the 2024 edition of Best Colleges released on Sept. 18, JSU tied four peer universities for the No. 64 spot: Bryan College, Coker University, Columbus State University and Spalding University. The university also climbed again among Top Public Schools in the South – tying Columbus State for No. 30 among public Southern universities, up four spots from 2022.
"We are proud to see Jacksonville State continue to climb in the rankings, as it reflects the commitment our faculty and staff have made to advancing the university," said President Don C. Killingsworth, Jr. "At JSU, our mission is to change lives by helping students achieve their full potential. We meet students where they are academically, and provide the support they need to succeed. While we certainly appreciate the recognition, we understand the true value of a college education is immeasurable."
JSU was once again recognized as a Top Performer on Social Mobility – tying Embry-Riddle Aeronautical University for No. 98 out of all colleges and universities in the US. Social mobility measures the percentage of economically disadvantaged students able to advance by enrolling and graduating from college.
The university's Bachelor of Science in Nursing was also ranked nationally, tying for No. 402 out of all programs in the US – up from No. 413 in 2022. Earlier this year, the university's Master of Science in Nursing tied for No. 167 in the nation while its Doctor of Nursing Practice program tied for No. 153. The Master of Science in Nursing was also tied for No. 141 among Best Online Programs in the US.
Other top-ranked JSU graduate programs include the Master of Science in Criminal Justice, ranked No. 59 among Best Online Programs; the Master of Social Work Program, tied for No. 196 in the nation; and the Master of Public Administration, ranked No. 182 in the US.
"Our faculty and staff continue to work together to add new programs and enhance the curriculum," said Dr. Christie Shelton, Provost and Senior Vice President for Academic Affairs. "We currently offer more than 100 academic programs, with more under development, to provide our students an outstanding learning experience that prepares them for fulfilling careers or provides the foundation for graduate study. What sets JSU apart is our faculty and staff build strong relationships with our students, supporting them as they progress on their academic journey, which is critical to their success in college and in life."
To see how JSU stacks up on other rankings lists, visit the university's Rankings and Designations page.