Education Alum Establishes Scholarship to Support Future Teachers
09/15/2023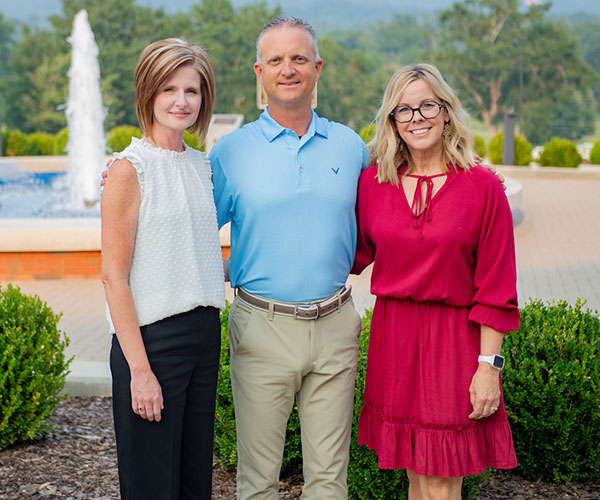 Coach Mark Sanders, his wife Dawn, and Dr. Gina Mabrey. (JSU photo)
by Brett Buckner
All anyone needs to know about Coach Mark Sanders can be summarized by his response to a single question: "How are you doing?"
"If things were going any better, I'd have to be three different people," he said. "I just can't imagine being any more blessed."
Sanders and his wife, Dawn, wanted to share those blessings with others by establishing the Coach Mark and Dawn Sanders Scholarship at Jacksonville State. It's awarded to a junior or senior studying education or wellness.
"We understand the powerful influence that teachers and coaches can have," said Sanders, who has spent 22 years coaching. "We know firsthand how difficult it is to afford college, especially now, and our heart is in helping people who can one day have a powerful influence on the next generation. We want to add value to leaders who can then multiply that value to others."
Sanders, who attended nearby Alexandria High School, knew as far back as seventh grade that he wanted to be a teacher and a baseball coach.
"I always had a passion for people," Sanders said. "I knew how to communicate with people, how to motivate people and how to help them grow. I also loved sports, and combining those skills and passions just made sense."
After high school, Sanders received an athletic scholarship to Emmanuel College, a four-year school in the National Association of Intercollegiate Athletics (NAIA) about 100 miles north of Atlanta. It was there he learned a harsh truth.
"I realized pretty early on that I was not going to make a career out of playing baseball," he said, laughing, "so I decided to come home to JSU, to get my teaching certificate."
To pay his way through JSU, Sanders worked multiple jobs and took out student loans. He graduated in 1997.
"What really stands out to me in terms of my time at JSU is clearly the teachers," he said. "I had some outstanding teachers who believed in me and who saw a real potential in me. They also helped me see the importance of valuing and adding value to students."
Those lessons carried over to being a coach. "Leadership is simply influence," he said.
In 1998, Sanders got his first job teaching at Westbook Christian School in Rainbow City, Ala., where he also coached football, baseball and basketball. He then moved to Riverchase Middle School to be its new softball coach.
"I didn't want to coach softball," he said. "I had no interest at all in coaching softball."
The Riverchase principal sweetened the offer by telling Sanders that the baseball coach was looking to move up and he could have the job if he proved himself well with the softball team.
"And what he told me was that the softball program had not been very good," Sanders said. "I didn't know exactly what that meant…were they .500 or maybe a little below .500?"
Not even close. Riverchase Middle School hadn't won a single game in three years when Sanders took over the program.
"I felt sick," he said. "I'm a competitive person, and I didn't know how I was going to improve this team."
To make matters worse, the best middle school softball teams in Alabama were in Sanders' conference.
"We just started dreaming and scheming – and ended up winning 11 games in that same conference in our first year," he said.
In 2009, Sanders was named head softball coach of Helena Middle School during its inaugural season – where he has built a dynasty. Over the past seven season, the Huskies went 205-12. In 2017, they were 34-1, and went undefeated in 2018, 2019 and 2022. Helena High School has played in three straight Class 6A state softball tournaments.
In May, Coach Sanders was named head softball coach at Helena High School – continuing with the sport he originally only took on as a placeholder. He hopes future scholarship recipients share his passion for leadership as teachers and coaches.
"It means everything," he said. "We want to be outrageously generous by investing in people who will have influence on the next generation."