Sideline Memories: Dee and Becky Salls Make a Planned Gift in Honor of Jax State Coaching Legend
08/31/2023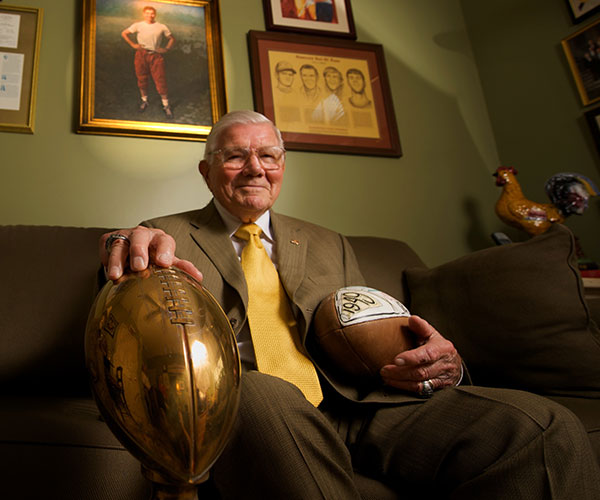 Dr. Don Salls, JSU's winningest football coach, poses with the 1950 Paper Bowl trophy and game ball in his Tuscaloosa home in 2009. On the wall behind him is his own football portrait. (Steve Latham/JSU)
by Brett Buckner
It's a question Dee Salls has heard most of his life – no matter where he goes – anytime his last name comes up in conversation. "Are you related to Don Salls?"
The answer, of course, is yes. Donald "Dee" Salls is the son and namesake of JSU coaching legend Don Salls, who died in January 2021 at the age 101. He served as head football coach from 1946-1964, winning seven conference championships and playing in four bowl games enroute to becoming the winningest coach in university history.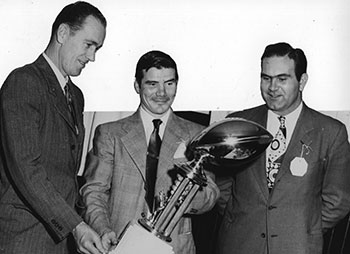 Members of the Jacksonville State College 1949-1950 Gamecock football coaching staff stand admiring their second Paper Bowl trophy. The first Paper Bowl trophy was won in 1948 in a game against Troy and the second Paper Bowl trophy was won in 1949 in the game against Livingston. Shown left to right are Ray Wedgeworth (line coach), Don Salls (head coach), and Tom Roberson (assistant coach). (Opal Lovett/JSU)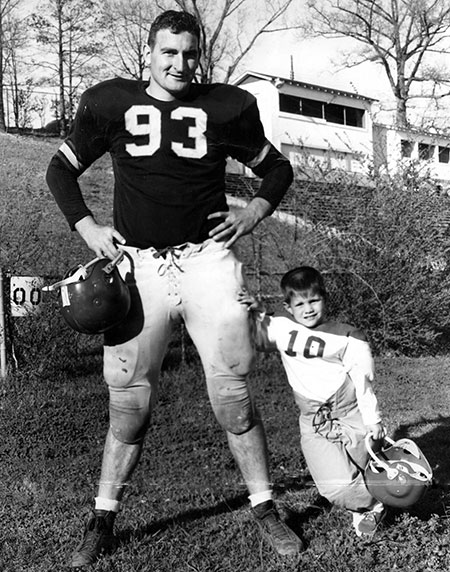 A young Donald "Dee" Salls, right, poses next to one of his dad's players on Burgess-Snow Field. In the background is the old press box and current visitor's side.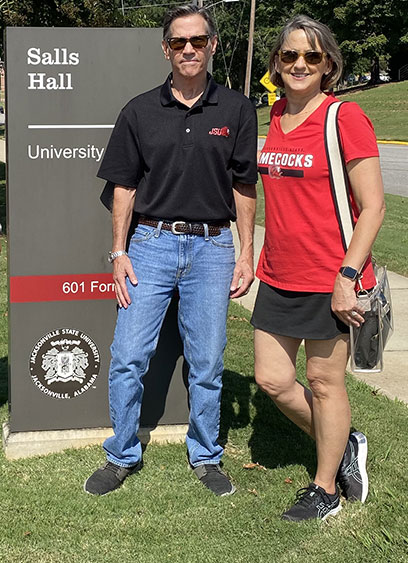 Don "Dee" and Becky Salls stand in front of the sign for the university building named after his father on a JSU Game Day. (Courtesy/Dee and Becky Salls)
"At one point, he had more years at the school than anyone else," Dee said. "It was his first and only job. When he started, there was just a club football team. So he was responsible for starting the football program, along with assistant coaches Ray Wedgeworth and Tom Roberson."
Coach Salls spent 38 years at JSU, which included teaching in the Department of Education, where he was named professor emeritus upon retirement. He was inducted into the JSU Athletic Hall of Fame, the Alabama Sports Hall of Fame and the Westchester County Hall of Fame in New York.
Dee grew up walking the sidelines during JSU football games, soaking up the charged atmosphere. He remembers "getting to know the players, listening to the Marching Southerners and watching the Ballerinas." When his father passed away, he and his wife, Becky – both of whom are JSU graduates – decided to create a planned gift to the university in his honor.
"He always wanted to give back to the school," Dee said. "For years, he sent a small donation monthly until health issues prevented him from continuing. We're just trying to fulfill his wishes."
Since there's already a building named after Coach Salls on campus – Salls Hall, home of the JSU Police Department – the couple has decided to establish a scholarship in his honor. "I think he would be happy that we were able to contribute," Dee said.
Dee graduated from JSU in 1979, followed by Becky in 1980. Both received degrees in education. While Dee went into the fitness industry, Becky spent 42 years in the classroom. She was recently inducted into the JSU College of Education and Professional Studies Hall of Fame. She has already established the Becky Vedel Endowed Scholarship within the college.
"As the years go by the school becomes more important, as we met there," Dee said. "Our desire is to create a lasting memory of Dr. Donald J. Salls and a legacy for our three boys and their families."
Native to White Plains, NY, Coach Salls played fullback and linebacker at the University of Alabama from 1939 to 1942. He was a member of the Crimson Tide's 1941 national championship team and captain of its 1942 Orange Bowl-winning squad. He graduated with a bachelor's degree in physical education in 1942.
After college, Salls served in World War II – earning several medals for bravery, including the Purple Heart after he was shot in the hand during combat. In 1945, he was promoted to captain.
After the war, Salls returned to UA and completed coursework for his master's degree in physical education, which he received in 1946. That year, he was offered the position of head football coach and associate professor at JSU, despite having never set foot on campus.
"All I had heard was that it was the Friendliest Campus in the South," Salls told the JSU alumni magazine, "Gem," in 2009. "I am so proud of my 38 years I spent there. I worked with outstanding coaches, teachers, professors, students and presidents. The Lord has truly blessed me." 
Learn how you can honor the memory of a loved one on campus