Campus Dining Payment Options Reminder
08/25/2023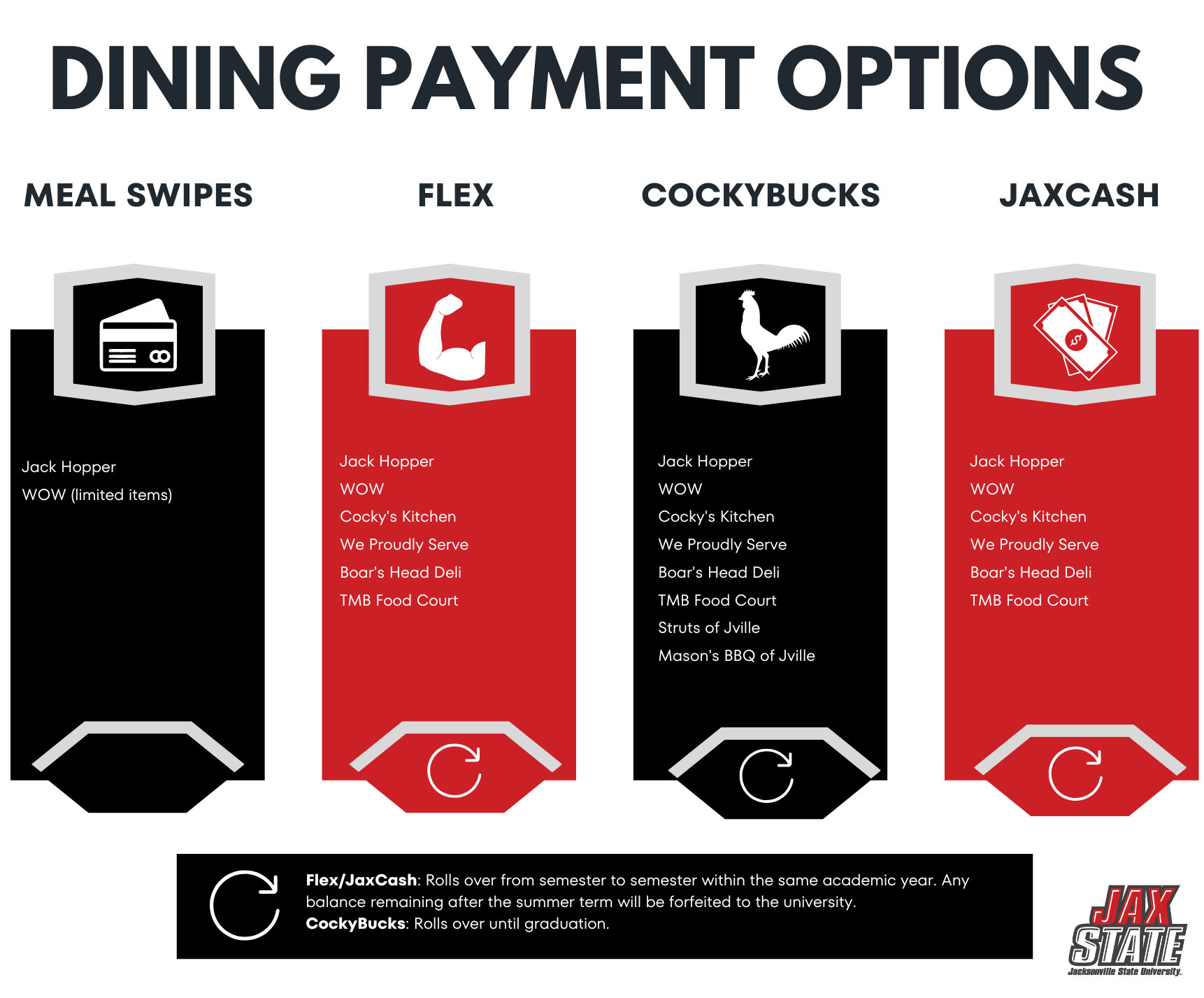 Dining payment options at each JSU Dining Location. (Graphic by Buffy Lockette )
The fall semester is well underway and students are fueling up on what Niche.com has recognized as the state's top campus dining experience, coming in at No. 32 in the nation on its Best College Food in America list.  
As announced over the summer, JaxCash is a required dining fee for all freshman and sophomore students enrolled in six or more credit hours of in-person or hybrid classes who do not already have a meal plan. It is automatically applied to student accounts and is pre-taxed – meaning students do not have to pay taxes when redeeming JaxCash dollars at participating dining venues.  
CockyBucks is an optional dining program available to all students. With a $50 minimum deposit, funds can be added to a student's JCard to make purchases at participating locations, including Struts and Mason's BBQ. New locations are continually being added. To purchase, students should log on to the MyJaxState portal (formerly known as MyJSU) and look under the Dining header.  
With two new dining locations and new payment options, the following list has been compiled to help students better navigate the many offerings. Learn more Dining FAQs page.  
Dining Locations by Payment Option  
Meal Swipes  
Jack Hopper Dining Hall

 

Wow (limited items)

 
Flex Dollars  
Jack Hopper Dining Hall

 

WOW

 

Cocky's Kitchen 

 

We Proudly Serve (Starbucks)

 

Boar's Head Deli

 

TMB Food Court

 
CockyBucks  
Jack Hopper Dining Hall

 

WOW

 

Cocky's Kitchen

 

We Proudly Serve (Starbucks)

 

Boar's Head Deli

 

TMB Food Court

 

Struts of Jacksonville 

 

Mason's BBQ of Jacksonville 

 
JaxCash  
Jack Hopper Dining Hall

 

WOW

 

Cocky's Kitchen

 

We Proudly Serve (Starbucks)

 

Boar's Head Deli

 

TMB Food Court