Walking the Line to Make Graduates Feel Special
05/19/2023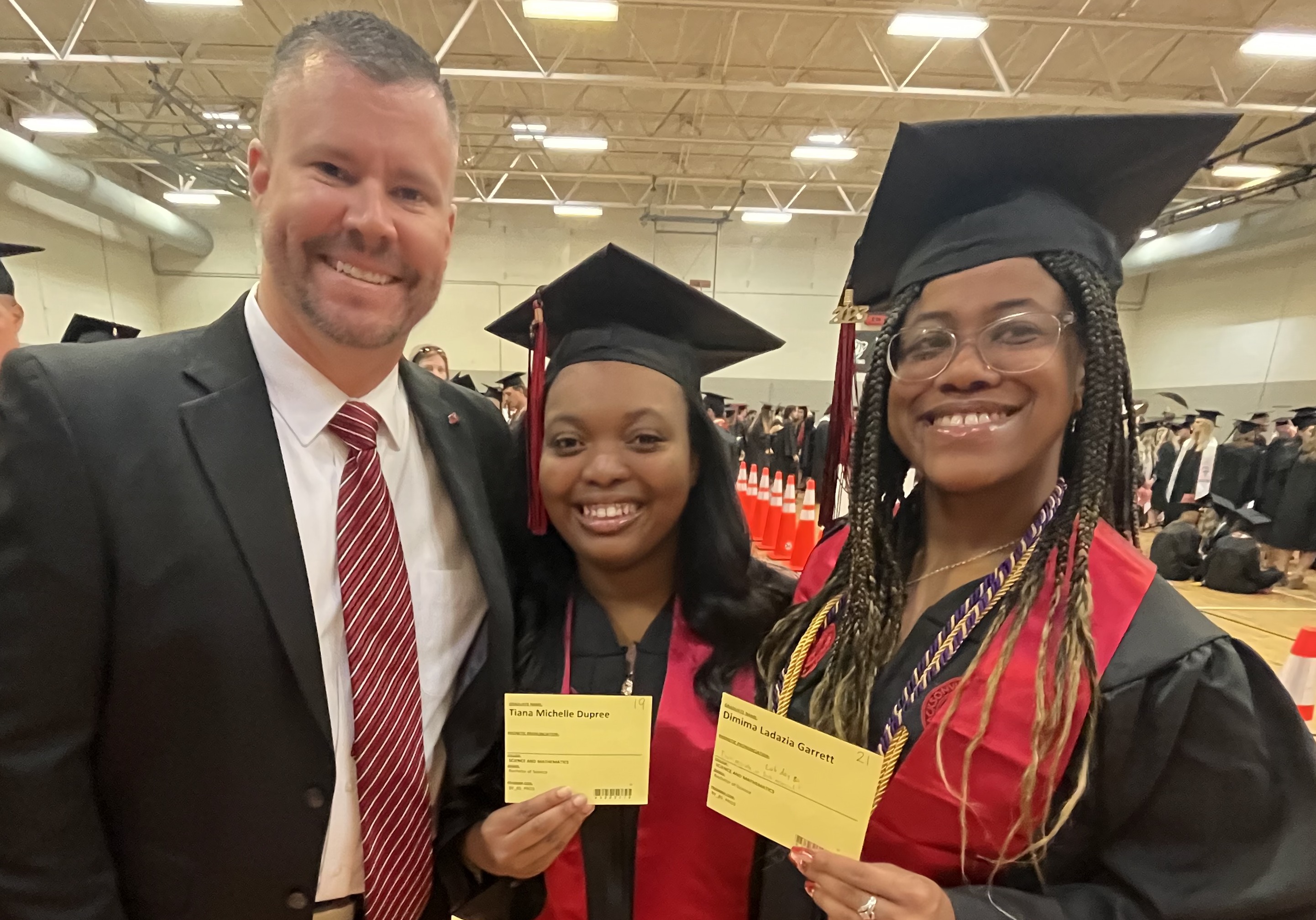 He walks the line: commencement reader Andy Green, left, with graduates Tiana Dupree and Dimima Garrett.
by Buffy Lockette 
It's about an hour before Jacksonville State University's spring commencement, and nearly 900 students are lined up in their caps and gowns in Kennamer Hall getting ready for the ceremony to start on Burgess-Snow Field. 
The graduates wait, in nervous anticipation, to mark one of the greatest milestones of their lives. They secure their caps, send text messages to loved ones arriving at the stadium, and reunite with classmates also getting ready to march out to "Pomp and Circumstance."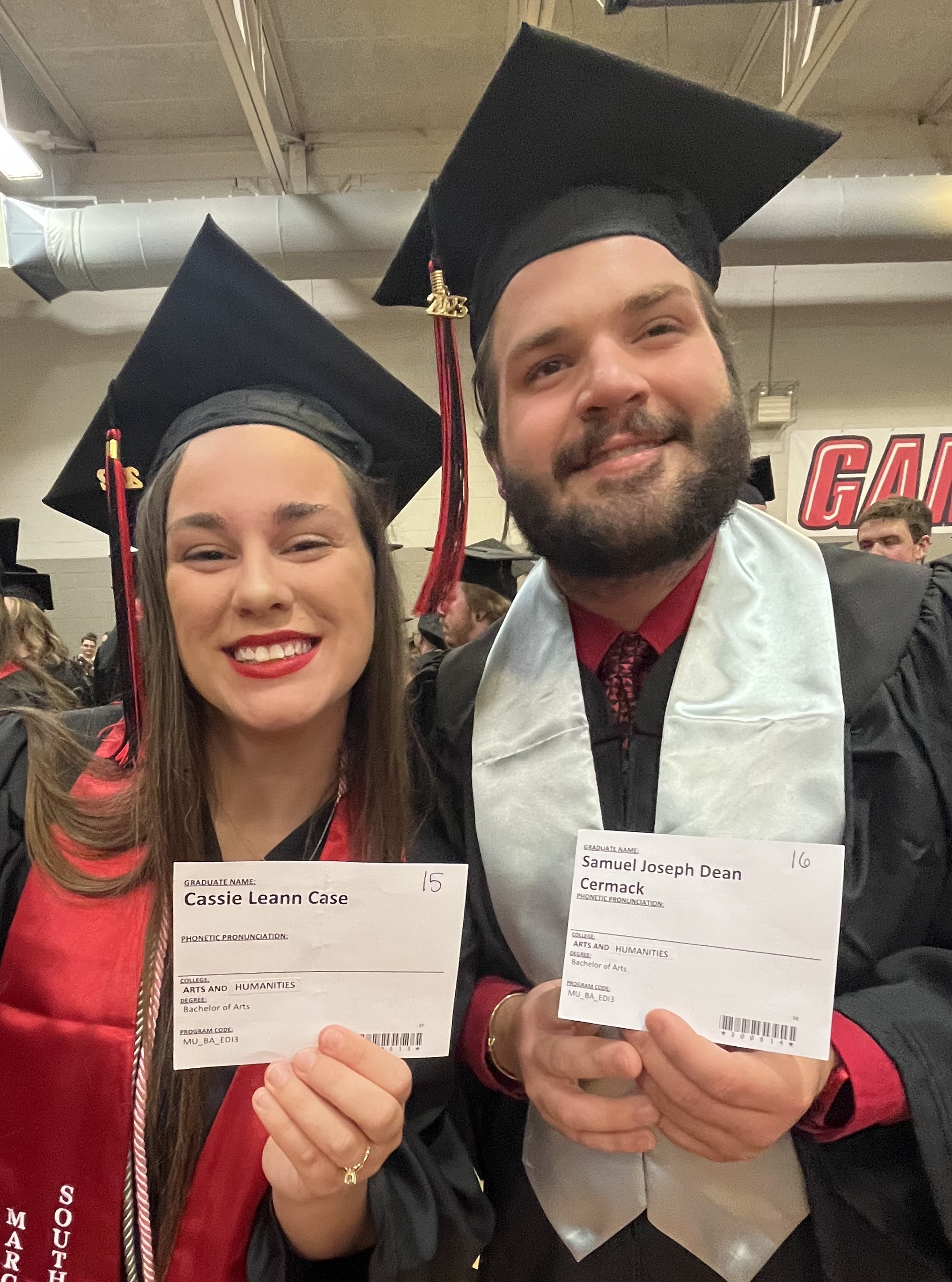 Trinity Johna Elston, who is used to people mispronouncing her middle name, wonders if it's going to be botched by the announcer when she crosses the stage. It may be spelled "Johna," in honor of her father, John, but it is pronounced "Janay." 
"I have to explain it so often that I opted out of having my middle name printed on my bank card," Elston said. 
Other graduates share her fears, including Samuel Cermack (last name pronounced "Sir-Mack," not "Kerr-Mack), Cassie (not Casey) Case, and Dimima Garrett (first name pronounced De-Maya, not De-Mee-Ma). 
"Usually, I don't correct people," said Alexandria Quintero (last named pronounced "Keen-tero," like quinceañera, rather than "Quinn-tero"). "But this is a day that it needs to be correct."  
The university agrees. That's why commencement reader Andy Green walks the line before every ceremony each semester, checking the pronunciation or preferred name of each graduate. He is usually joined by alternate reader Dr. Andrea Porter, but this semester Dr. Janet Bavonese was on standby in case of emergency (like laryngitis). But Green is almost always the one at the podium. 
"It's a wonderful way to give back to JSU," he said. "Everyone's name is unique to them. While there are people who share a name, everyone's name is special. I have seen students' names be mispronounced and it affect them because it's as if somebody doesn't know them. These students have given so much to this institution, we owe it to them to know who they are, say their name correctly and make them feel special." 
Each student's name is also printed in the digital commencement program and shared through the student achievement portal, Merit. The ceremony is streamed live and archived on YouTube.
The graduates themselves are given the opportunity to thank those who assisted them on their college journey by recording a brief message to be shared on the screen before the ceremony. The clips are recorded by JSU Digital Media Services at Graduation Fair each semester. 
Celebrate the next class of JSU graduates at Summer 2023 commencement on Aug. 4, with ceremonies at 10 a.m. and 2 p.m. in Pete Mathews Coliseum.