Chemistry Student Awarded Research Fellowship to Germany
04/06/2023
by Abigail Harrison
JSU chemistry major Nicholas Covalsen will pack his suitcase and fly to Germany this summer to participate in the Research Internships in Science and Engineering (RISE) program.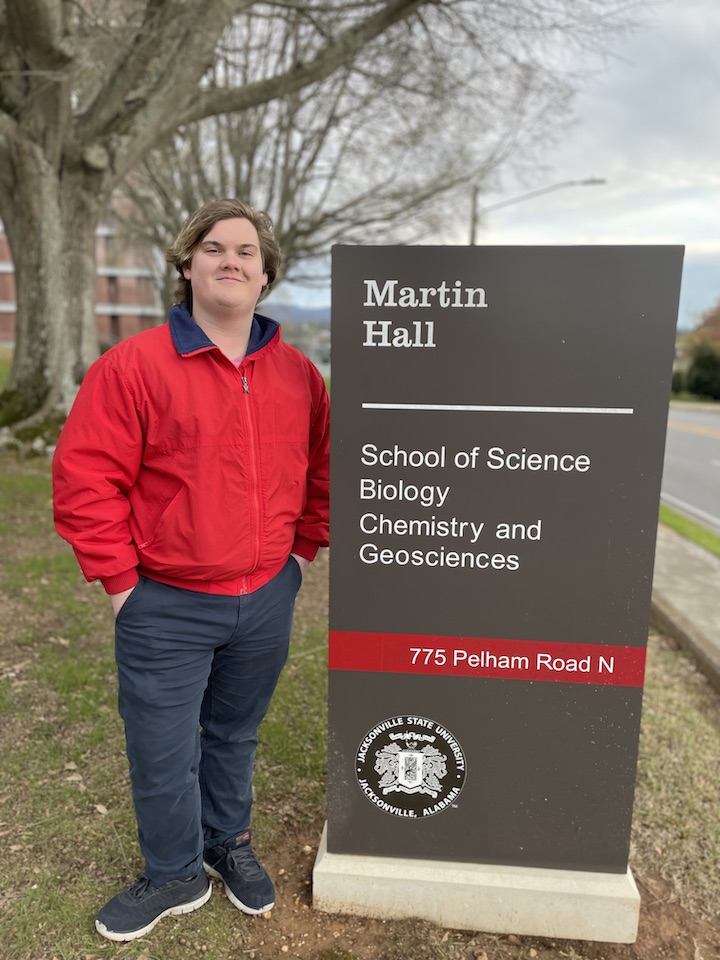 The 20-year-old was one of 474 students selected among 1,697 applicants from North America, Britain and Ireland. The competitive program matches undergraduate students with research internships at top German universities and institutions. 
For six weeks, Covalsen will work at the Institute of Analytical and Bioanalytical Chemistry at Ulm University, where he will develop spectroscopic methods of studying trace metals in photocatalytic materials.
"What I'm hoping to get out of this is to really understand how other parts of the world do science, to get more exposure to bigger labs, and to be around people who have done research," Covalsen said.
When he's not busy conducting research, Covalsen said he is looking forward to exploring the German culture. Ulm, the birthplace of Albert Einstein, is filled with historical statues and buildings he is excited to visit.
"This is my first time ever traveling," said the Breman, Ga., native. "I think I've been to three states, all neighboring Alabama, so my first time out of the American Southeast is going to be in Germany. It's going to be quite a culture shock."
The program includes financial aid for flight, healthcare and housing, but some expenses are not covered. According to Covalsen, he has been offered financial support from JSU chemistry alumnus Dr. Madison Wright, as well as Dr. Tim Lindblom, dean of the College of Science and Mathematics.
In addition to his chemistry major, Covalsen is also double minoring in math and physics. He serves as vice president of JSU's student chapter of the American Chemical Society. After graduating from JSU, he plans to pursue a Ph.D. and a career in research.
"My big thing has always been that I want to do research," he said. "I want to actively be discovering new things because that's why I think science is cool in the first place. I think getting to understand the world and how it works is just so fun. So, whatever I'm doing, I want to be finding out something new."