President Emeritus Honored for Lifetime Achievement
02/17/2023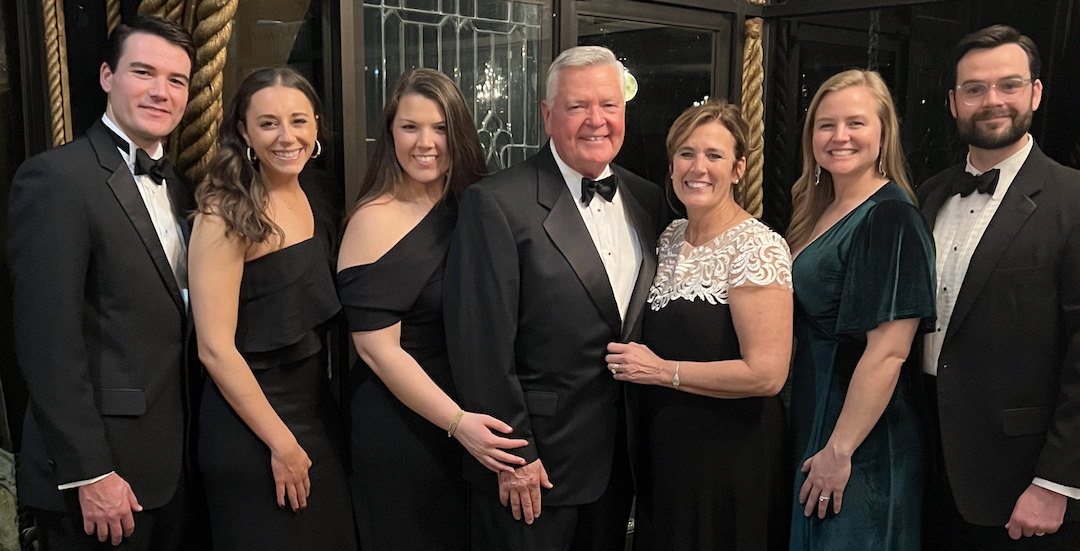 Dr. Bill Meehan, center, is joined by his family at the University of Alabama's Education Hall of Fame induction ceremony on Feb. 11. Pictured, from left, are Dr. Drew Meehan, Dr. Allison Meehan, Carol Grace Meehan, Dr. Bill Meehan, Beth Meehan, Caroline Meehan and Will Meehan.
by Buffy Lockette
Retired JSU President Bill Meehan has been recognized for his contributions to education through his induction into the University of Alabama's Education Hall of Fame. 
During a special ceremony hosted in Tuscaloosa on Feb. 11, Dr. Meehan was honored along with his fellow Class of 2023 inductees: Dr. Mary Jane Caylor, retired dean of JF Drake State Community and Technical College; Dr. Jo Beth Newton, retired superintendent of Homewood City Schools; Dr. Doug Phillips, host of the Emmy Award winning APT series "Discovering Alabama"; and Jeana Ross, retired secretary of the Alabama Department of Early Childhood Education.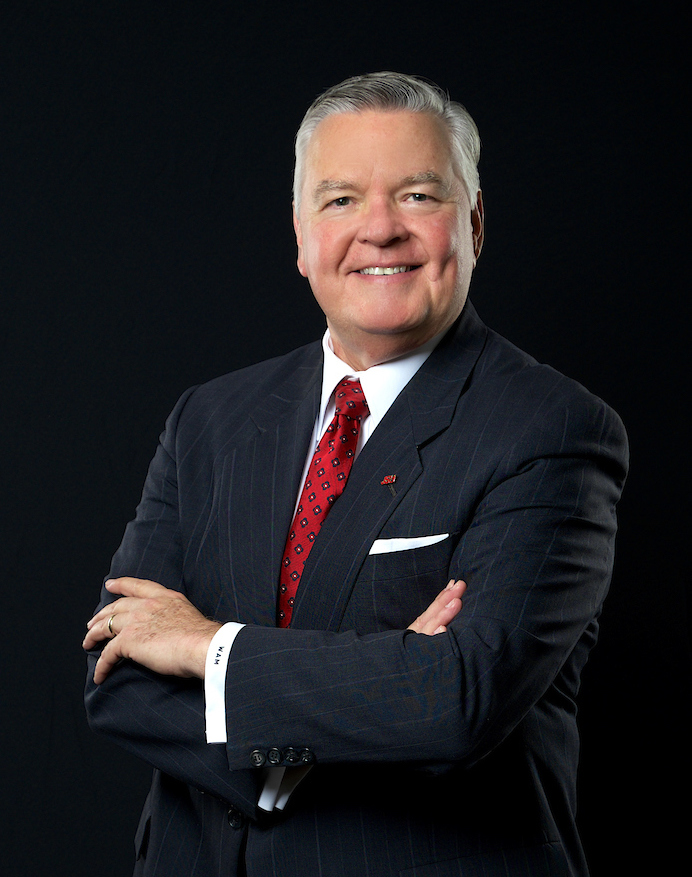 Meehan retired from JSU in 2015 after dedicating 47 years of his life to the university, 40 as an employee. He joined the faculty as a full-time biology instructor in 1976, after earning bachelor's and master's degrees in biology from the university. In 1999, he was awarded an EdD in higher education administration from the University of Alabama.
"It's very sweet to be recognized by the institution that granted you your doctoral degree," Meehan said. "It's nice to be recognized for the work you have done, even after you've retired." 
Meehan served in several roles at JSU before becoming its 11th president in 1999, including coordinator of medical technology, director of academic advisement, assistant to the vice president for academic affairs, acting vice president for academic affairs, associate vice president for academic and student affairs, and acting vice president for institutional advancement. Serving from 1999 to 2015, he held the third longest presidential term in JSU's history - exceeded only by Presidents Clarence W. Daugette (1899-1942) and Houston Cole (1942-1971). 
Meehan will mark his eighth year of retirement this summer, a role he is still getting used to but enjoying. He lives in Jacksonville and works as a consultant for Higher Education Leadership Search, where he helps recruit administration and faculty for colleges and universities across the US. 
When he received a letter from the UA College of Education in November notifying him of his selection for the Hall of Fame, he was surprised. "Usually, when you get to my age, you only hear from deans if they are asking for donations," Meehan said with his trademark modest humor. 
He attended the ceremony with his wife of 31 years, Beth, and their children, who grew up on campus. Twin sons Will and Drew have followed their father into the sciences. Drew received a Doctor of Osteopathy degree from Auburn University and is completing his residency with the Virginia Tech Carilion School of Medicine. His wife, Allison, is a veterinarian. Will is working at a cancer research lab at UAB, where he is pursuing a PhD in molecular pathology and his wife, Caroline, a master's in special education. The Meehan's daughter, Carol Grace, is a dual enrollment admissions counselor at JSU and is pursuing a master's in counseling and guidance.
Dr. Meehan's sister, Carol Oakes, and friend Rick Wisenaut were also in attendance at the ceremony. Several members of Meehan's extended JSU family were also there to support him at the induction ceremony, including Dr. Eric Mackey, JSU alumnus and Alabama superintendent of education; Trustee Emeritus Red Etheredge; retired nursing professor Donna Etheredge; Dr. Rebecca Turner, provost emerita; Becca and Andy Williams; Dr. Emily and Lamar Sims; and President Don C. Killingsworth, Jr. and First Lady Kristi Killingsworth. 
"President Meehan was an outstanding educator, advisor, mentor and leader throughout his 40-year career at JSU," Dr. Killingsworth said. "He exemplified the mission of the university and led us to new heights – from our first capital campaign to our first doctoral program. He made a lasting impact on JSU and the State of Alabama, and we are proud of all he accomplished."
Learn more about Dr. Meehan's contributions to JSU at jsu.edu/meehan-legacy.