JSU Sport Management Students Work Super Bowl 57
02/12/2023
by Abigail Harrison
Whether the Kansas City Chiefs or the Philadelphia Eagles take home the Vince Lombardi Trophy on Feb. 12, a couple of JSU Gamecocks will emerge as winners following Super Bowl 57.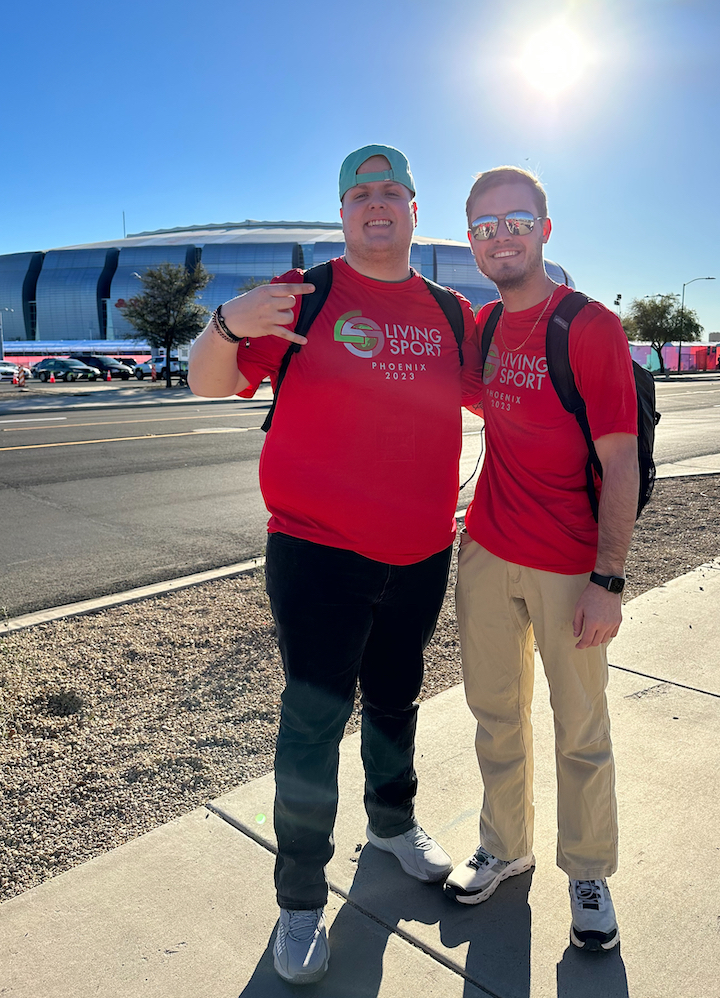 Sport management seniors Brandon Waldrep and Andrew Hopkins are volunteering at the event through Living Sport, a company that creates international sports programs for college students seeking experience in the industry. They were among 57 students selected internationally for the competitive volunteer program.  
"We're one of two schools to have two people going," Hopins said. "So just for that, it's an accomplishment and an honor."
The pair flew out to Phoenix, Ariz., for the 10-day experience on Feb. 4. They have attended educational workshops, toured stadiums and arenas, went horseback riding through the desert, and, of course, supported preparations for the biggest game day in professional football. On the day of the Super Bowl, they will be responsible for ushering people into the stadium. 
The two students said they appreciate the opportunity to make connections and gain real-world experience in the sports industry that will prepare them for their futures. 
"We've always been told the best thing you can do to build up your resume is volunteer events," Waldrep said. "We have done a handful of volunteer events, but nothing to this extent, so just the fact that we get this experience to go out there and work the most televised sporting event in the world is an unreal experience."
After graduation, Waldrep wants to work in game day operations and event management. He would especially love to work for the Rocket City Trash Pandas, Huntsville's minor league baseball team. Hopkins, currently a manager of the JSU men's basketball team, wants to work as a director of operations and travel with sports teams. 
"Having Living Sport on my resume is going to help me a lot in the job field," Hopkins said. 
While neither are fans of the Chiefs or the Eagles, they are excited to share their experience with friends and family, who helped them cover the cost of the trip through a GoFundMe campaign. Both predict the Eagles will be victorious.