Thanksgiving Break Hours and Information
11/11/2022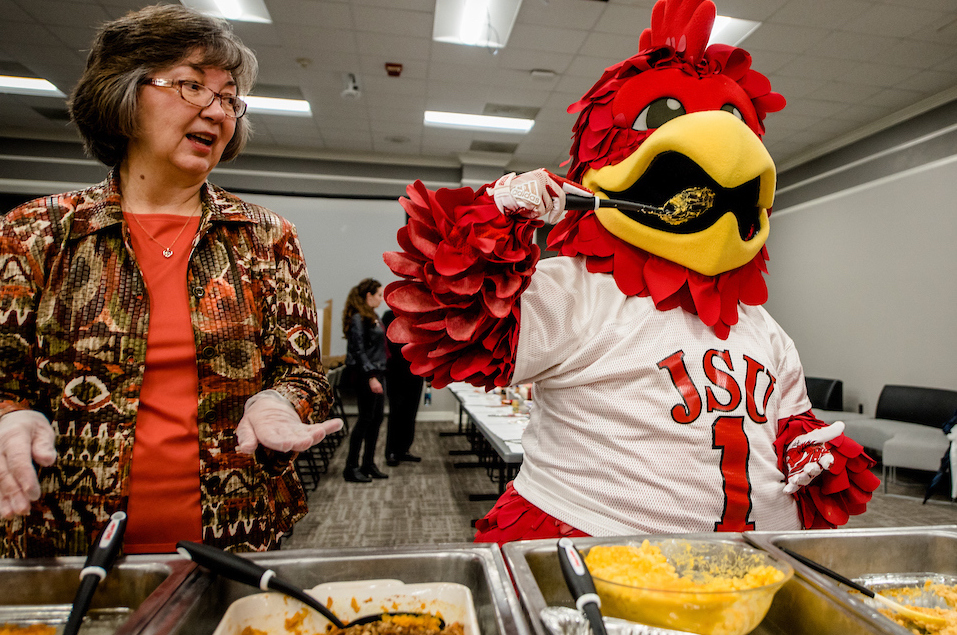 Cocky sneaks a taste at a Thanksgiving meal for international students in 2018.
by Buffy Lockette
It's almost turkey and mashed potato time! Jacksonville State will be closed for Thanksgiving Break on Nov. 21-25.
Learn how to eat healthier over the holidays at Wellness Wednesday on Nov. 16, 12 p.m., in East Mason Hall, Room 118. The theme is "Count Our Calories and Our Blessings" and a healthy pasta dish is on the menu. There is no charge this month, but please bring a donation for the Gamecock Market. The deadline to RSVP is Nov. 14.
Enjoy a Thanksgiving meal at Jack Hopper Dining Hall with your JSU family on Thursday, Nov. 17, during lunch (11 a.m. to 1:30 p.m.) and dinner (5-7 p.m.). A traditional Thanksgiving meal will be served for the cost of a meal swipe or $10. Bring a donation for the Gamecock Market!
Ensure your fellow Gamecocks aren't hungry over holiday break by making a donation to the Gamecock Market. Please bring non-perishable food and hygiene products to Jack Hopper Dining Hall or the Office of Military and Post-Traditional Student Services in Daugette Hall. The Market's greatest needs right now are canned pasta such as Spaghetti-Os, peanut butter, saltines crackers, Pop Tarts, chips, macaroni and cheese, apple sauce, tuna, Jello, regular or heavy feminine pads, tea bags and ramen noodles.
The following hours will be observed on campus for Thanksgiving Break.
MAIL CENTER: Closed Nov. 21-25, with the last mail processing date on Nov. 18. Call 256-782-5290 with questions and concerns.
DINING: All Sodexo dining locations will close on Friday, Nov. 18 at 2 p.m., resuming regular business hours on Nov. 28. Z Beans will close on Friday, Nov. 18 at 5 p.m. and reopen the morning of Nov. 28. The week before the break, Nov. 14-18, the coffee shop will offer 20 percent off all fall drinks.
HEALTH CENTER: The RMC/JSU Health Center will be open normal hours and seeing patients on Monday, Nov. 21 to Wednesday, Nov. 23. It will be closed on Thursday, Nov. 24-Friday, Nov. 25. 
COUNSELING CENTER: While the Counseling Center follows the hours of the university, students experiencing a mental health emergency when campus is closed should call the University Police Department at 256-782-5050 to be connected to an on-call counselor.
LIBRARY: Houston Cole Library will be closed Nov. 19-26, reopening on Sunday, Nov. 27, 3-11 p.m. The library's full calendar and hours are available online.
REC CENTER: The Recreation and Fitness Center will be open the following hours:
Saturday, Nov. 19: 9 a.m. to 8 p.m.
Sunday, Nov. 20: 12-8 p.m.
Monday, Nov. 21: 5 a.m. to 8 p.m.
Tuesday, Nov. 22: 5 a.m. to 8 p.m.
Wednesday, Nov. 23: 5 a.m. to 4 p.m.
Thursday, Nov. 24: Closed
Friday, Nov. 25: Closed
Saturday, Nov. 26: 12-8 p.m.
Sunday, Nov. 27: 12-8 p.m.
BOOKSTORE: The Campus Bookstore will close on Friday, Nov. 18, at 4:30 p.m. and reopen on Monday, Nov. 28, at 7:15 a.m. Please visit the store online to take advantage of several scheduled promotions.
CAMPUS POLICE: As always, the University Police Department will be open 24/7 during Thanksgiving Break to keep campus safe and secure. Call 256-782-5050 if you need assistance.
ATHLETICS: If you want to get out of the house over break, the Gamecocks will host one home athletic event On Tuesday, Nov. 22, there will be a women's and men's basketball doubleheader. The women's team will tip off first at 4:15 p.m. in Pete Mathews Coliseum against Life University, followed by the men's matchup against Elon University at 6 p.m. Admission is free to JSU students and fans ages 18 and younger. Purchase tickets online. 
CANYON CENTER: The JSU Canyon Center in Fort Payne, Ala., will be open to the public on Tuesday, Nov. 22; Wednesday, Nov. 23 and Friday, Nov. 25. Come enjoy the fall colors, observe the waterfall and shop in the gift shop - where JSU students, faculty and staff receive a 10 percent discount. 
HAPPY THANKSGIVING!