Students Select 2022 Homecoming Court
10/21/2022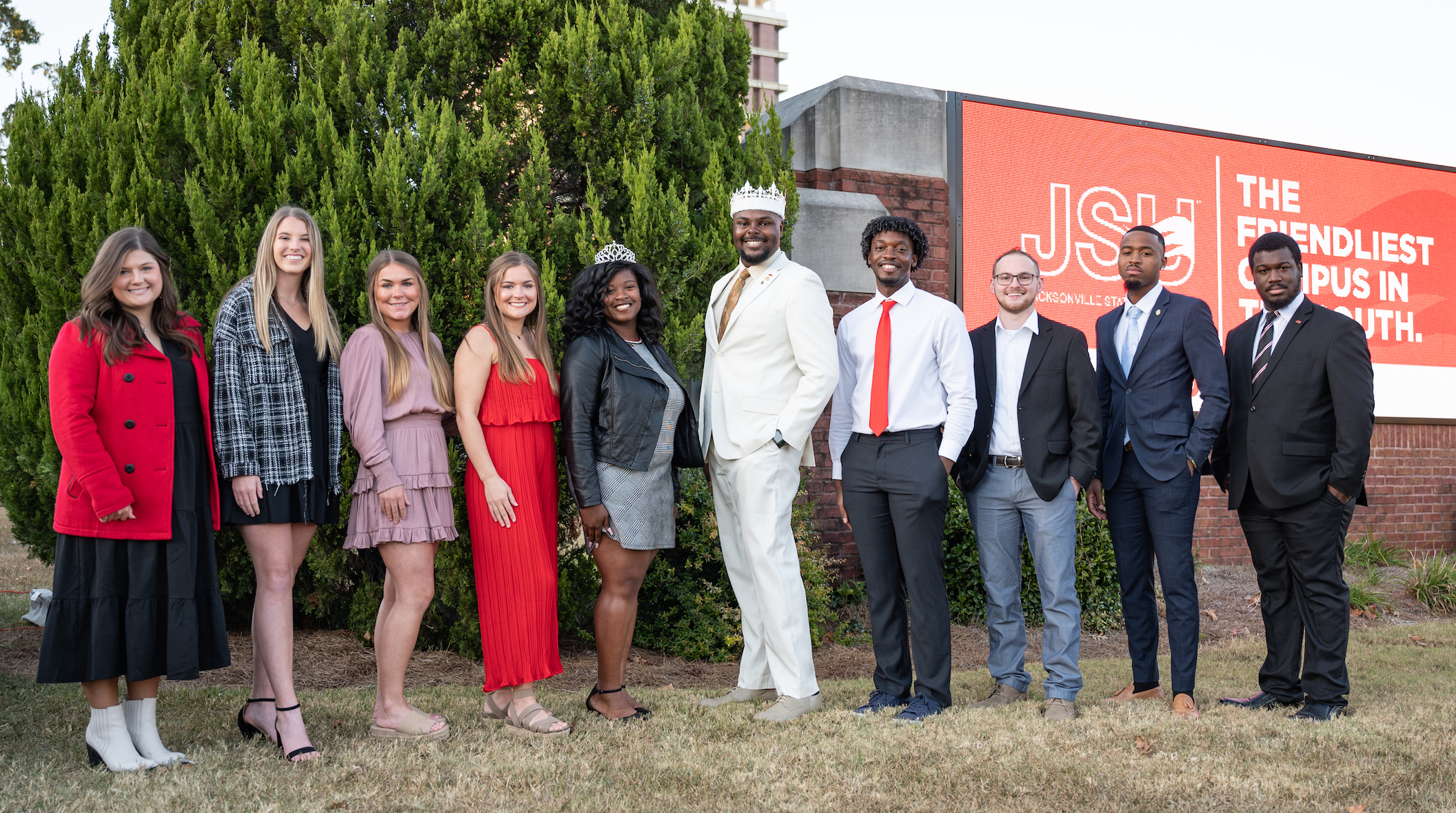 The 2022 Homecoming Court, from left: Savannah Hamm, AubreGrace Corn, Addison McDaniel, Aubree McDaniel, Kyla Chambers, De'Onta Bush, Bless Vincent, Tanner Hurst, D'myas Beavers and Zavius Kidd. Photo by Alyssa Cash.
by Buffy Lockette
Following a campuswide election, JSU students selected their 2022 Homecoming Court. The king and queen were crowned by President Don Killingsworth during a Homecoming Carnival on the lawn of the Theron Montgomery Building on Oct. 20 as follows. 
KING - De'Onta Bush
Junior De'Onta Bush of Pell City, Ala., was crowned Homecoming King. The communication major serves as vice president of the Student Activities Council, membership chair of the NAACP and is a Collegiate Legislator, Freshman Forum mentor, SGA Senator, Resident Assistant and an Admissions Ambassador. 
The King's Court includes: 
D'myas Beavers, an applied manufacturing engineer junior from Talladega, Ala. 
Tanner Hurst, nursing junior from Ashland, Ala. 
Zavius Kidd, elementary education senior from Sylacauga, Ala. 
Bless Vincent, computer information systems junior from Loganville, Ga. 
QUEEN - Kyla Chambers
Junior Kyla Chambers of Opelika, Ala., was crowned Homecoming Queen. The elementary education major is a member of Alpha Kappa Alpha sorority, the NAACP and Women's Issues, Support and Empowerment (WISE). She also volunteers with Headstart. 
The Queen's court includes: 
AubreGrace Corn, early childhood education major from Cave Spring, Ga. 
Savannah Hamm, accounting senior from Jacksonville, Ala. 
Addison McDaniel, special education sophomore from Hayden, Ala. 
Aubree McDaniel, secondary education junior from Hayden, Ala. 
The entire Homecoming Court will participate in the Homecoming Parade and be presented at halftime during the Homecoming football game against Southeastern Louisiana. The Homecoming Day festivities on Oct. 22 begin with a Homecoming Tailgate at 8 a.m. on Dillon Field, which will last until the football game kicks off in JSU Stadium at 1 p.m. At 8:30 a.m., there will be an open house at the President's House, followed by the Homecoming Parade at 10 a.m. along Pelham Road/Highway 21. Learn more about Homecoming at www.jsu.edu/homecoming.