University Breaks Historic Enrollment Records
09/20/2022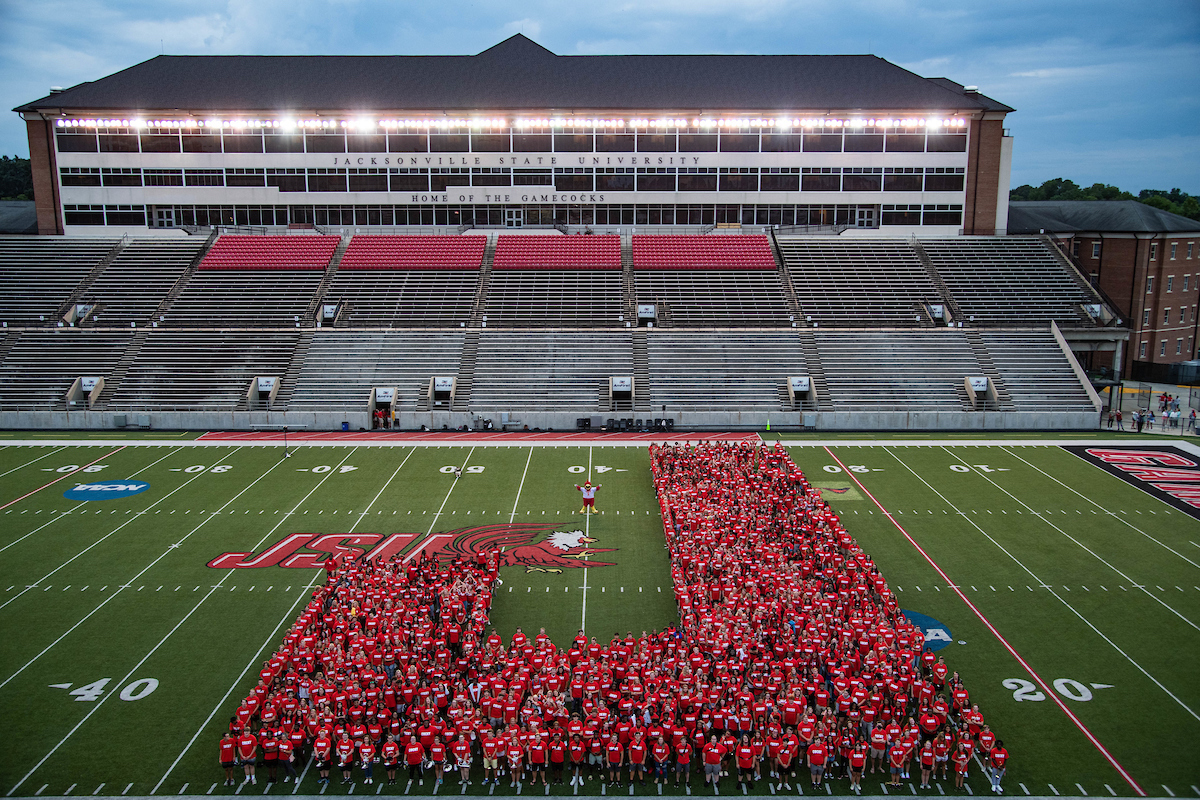 The university's largest freshman class poses for a group photo on Burgess-Snow Field at Freshman Convocation on Aug. 23. Photo by JSU Digital Media Services.
by Buffy Lockette
The numbers are in, and Jacksonville State University has shattered enrollment records again in Fall 2022. The university calculates an overall headcount of 9,633 students – exceeding the all-time enrollment record set last fall. 
"This is an exciting moment in the history of Jacksonville State University," said President Don C. Killingsworth, Jr. "We have surpassed 9,600 students for the first time while maintaining our commitment to helping each student find their purpose and their passion and translate that into a rewarding career."
According to Dr. Emily Messer, vice president for advancement and enrollment management, JSU has enrolled its largest freshman class and posted its highest undergraduate, dual enrollment and international enrollment numbers. In addition, she said the university received a historic number of housing applications, leading to the highest on-campus housing occupancy rate in more than five years. 
"We received a record number of admission applications, demonstrating increased interest in what the campus has to offer," Messer said. "JSU's transfer and freshman scholarship structure remains competitive across the region. To further promote affordability and accessibility, we added several new partnerships that offer scholarship opportunities for working adults." 
JSU students are also taking more classes. The university posted its highest credit hour production numbers, 111,568 hours, which measures the number of hours of course credit students are enrolled in. Undergraduates are now incentivized to take 15 hours a semester through a block rate tuition plan. JSU's investment in its Student Success Center and centralized advising model underscore its commitment to helping students excel academically, even if they choose to pursue an increased course load. 
To make itself more attractive to potential students and prepare Alabama's workforce for in-demand careers, the university has added nine new degree programs and 11 new certificate options over the past five years – including popular bachelor's degree programs in forensic investigations, respiratory therapy and film. The university has also added new graduate programs, including a Doctor of Nursing Practice. Pending approval from its accrediting body, JSU will launch its third doctoral degree program in 2023 – the Doctor of Education in educational leadership. 
"Our faculty, deans, department heads and support staff have worked together collaboratively and creatively to add new programs, update the curriculum and provide our students an outstanding learning experience – despite all the societal challenges of the past few years," said Dr. Christie Shelton, provost and senior vice president for academic affairs. "JSU continues to grow thanks to the hard work and dedication of our entire university community, which remains the Friendliest Campus in the South."
Applications for admission are now open for Spring 2023 and Fall 2023. Prospective undergraduate students are invited to take a sneak peek of campus at Preview Day on Oct. 1 and Nov. 12. Those interested in pursuing advanced degrees at JSU are invited to a Graduate Programs Information Fair on Oct. 5.