Lecture Series Returns with Focus on American Democracy
09/21/2022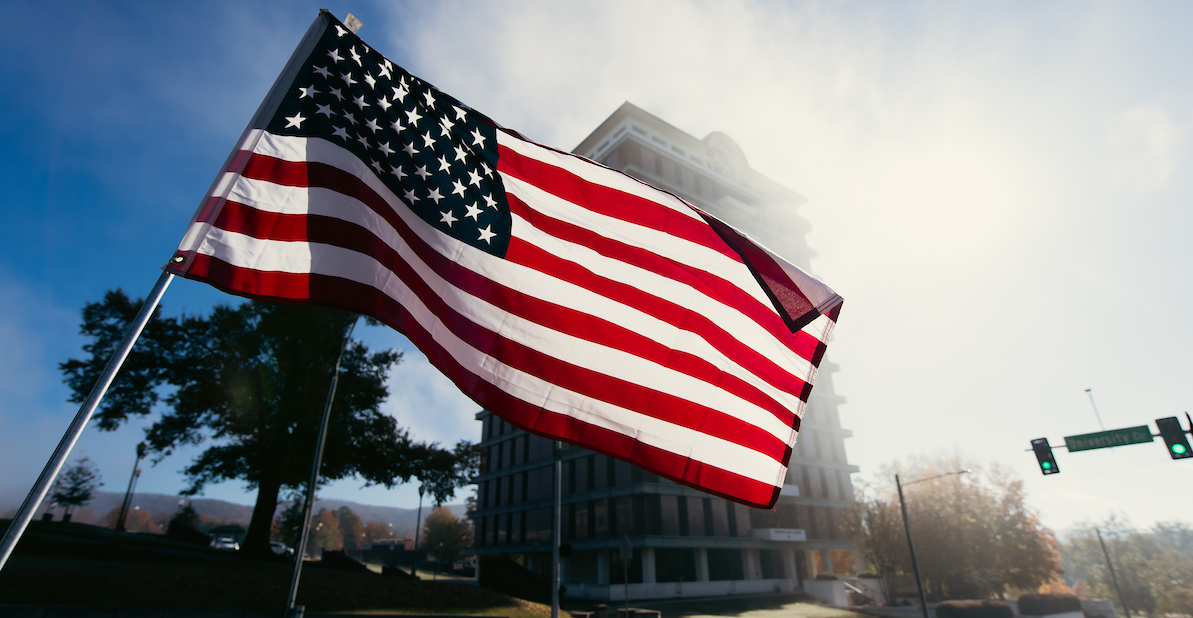 An American flag waives in front of JSU's Houston Cole Library on a foggy morning in 2021. Photo by JSU Digital Media Services.
by Buffy Lockette
The JSU Department of Sociology and Political Science will present its third annual lecture series focused on American democracy in 2022-2023 – the Tocqueville Lecture Series. 
Established on campus in 2020 under the leadership of Dr. Benjamin Isaak Gross, assistant professor of political science, the free, non-partisan series offers the public the opportunity to hear from leading scholars, professionals and civic leaders on timely issues impacting American society. For example: the complicated relationship between liberty and equality.
"Liberty and equality are two foundational concepts in American government, but those concepts are not the same," Gross said. "Sometimes, to preserve one you have to sacrifice or compromise the other – and that tension has always challenged American democracy." 
French sociologist and political theorist Alexis de Tocqueville – for whom the lecture series was named – was a groundbreaking scholar in this area. While traveling the US to study its prisons in 1831, he became fascinated with American democracy. He published the landmark book, "Democracy in America" in 1835, which History.com considers "one of the most influential books of the 19th century," that "remains a valuable explanation of America to Europeans and of Americans to themselves."
"Tocqueville wondered how America was making two things that are often at odds which each other – liberty and equality – work together," Gross said. "He thought we might be on the path to something, but that it wasn't going to be easy or certain. Still, he saw America as an example that could inform and educate other democratic governments, such as his homeland of France."
The lecture series invites the general public, as well as students, faculty and staff from across Alabama, to engage with ideas that are important in the founding and continuation of American government. The 2022-23 lectures include topics such as Title IX, authoritarian disinformation, freedom of speech and more.
The 2022-2023 Lecture Schedule includes the following events:
Sept. 20: "Restoring the Constitutional Integrity of Title IX," with Dr. Elizabeth Kaufer Busch, Christopher Newport University
Oct. 20: "Disinformation and the Threat to Democracy," with Dr. Brandon Stewart, Troy University 
Nov. 10: "A Discussion of Frederick Douglass's Remarkable 1876 Eulogy of President Lincoln," Dr. Richard Ruderman, University of North Texas
Feb. 2: "What is Political Civility Today?" with Dr. Lee Trepanier, Samford University
March 1: "The Inegalitarian Equality of the Declaration of Independence," with Dr. Emma Rodman, University of Massachusetts, Lowell
March 30: "Free Speech on Campus" with Dr. Jonathan Marks, Ursinus College
All lectures are offered virtually, with some hybrid sessions, and are free and open to the public thanks to grants from the Alabama Humanities Alliance and the Jack Miller Center for Teaching America's Founding Principles and History. High school and university faculty, civic groups and other organizations, as well as the general public, are invited to stream the live virtual lectures through Zoom or attend hybrid events on campus. Past lectures are also accessible through the series' YouTube channel. 
For more information, contact Dr. Gross at 256-782-5651 or bgross@jsu.edu. Follow the Tocqueville Lecture Series on Facebook for updates.