JSU Designates October "Exercise is Medicine" Month
09/30/2022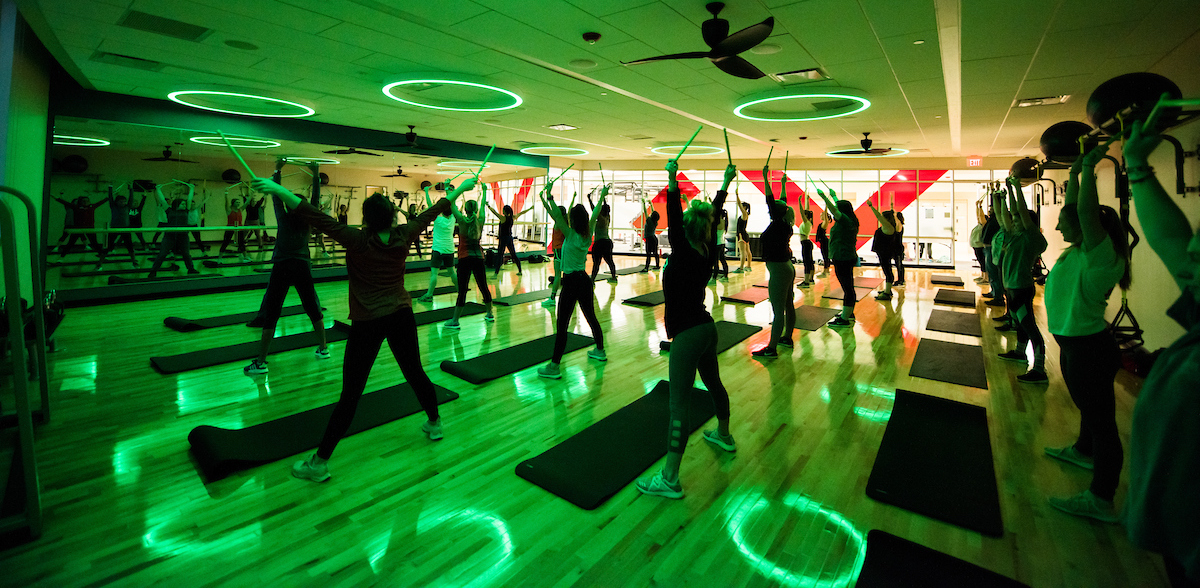 Students, faculty and staff get their hearts pumping at the Rec Center in Pound, one of the many fitness classes being offered as part of "Exercise is Medicine" Month in October. Photo by Grace Cockrell, 2019.
by Brett Buckner and Buffy Lockette
Before the first Autumn leaf hit the ground, store shelves were piled high with bags of "fun sized" candy, sold by the pound. From pumpkin-shaped Reese's cups to "Ghoul Mix" M&M's, Halloween candy is hard to resist. To offset this looming caloric catastrophe, JSU has designated October as "Exercise is Medicine Month."
Brought to campus by the Department of Kinesiology, Exercise is Medicine Month is a global health initiative organized by the American College of Sports Medicine. It aims to connect health care and exercise by making physical activity assessment part of the clinical process. 
"October always kickstarts a season of overeating, with Americans indulging from Halloween to New Year's – only to go on diets in January," said Dr. Gina Mabrey, head of Department of Kinesiology. "Exercise is Medicine Month gives us an opportunity to promote physical activity as a means of counterbalancing this – teaching Alabamians to combat obesity and metabolic diseases through exercise." 
The department has partnered with the Recreation and Fitness Center to offer Lunch Crunch Workouts in the MAC Court, 12:15-12:45 p.m., on the following dates in October: 
Oct. 5 – Zumba Kickoff Party
Oct. 10 – Pound
Oct. 12 – Pilates
Oct. 24 – Boot Camp Circuit 
Oct. 26 – Fitness Games 
Oct. 31 – Zumba in your Halloween Costume 
The Rec Center is also offering Guided Cycling classes on Thursdays in October at 5:30 p.m. The Lunch Crunch series and guided cycling are free to JSU students, faculty and staff, regardless of Rec Center membership. Please show your Gamecock ID to the front desk upon arrival.
The Department of Family and Consumer Sciences invites campus to a Wellness Wednesday Lunch on Oct. 19 in East Mason Hall, Room 118. The cost is $8 and reservations must be made by Oct. 14. For more information, contact Lynn Steward at lsteward@jsu.edu.
"We hope participants find an activity that inspires them to use exercise as medicine to improve their overall health and fitness this month," Mabrey said. 
JSU is one of only 156 universities and colleges to be recognized by the Exercise is Medicine organization with a silver medal designation for its efforts in creating a culture of wellness on campus.