JSU Dedicates New Business Building
07/18/2022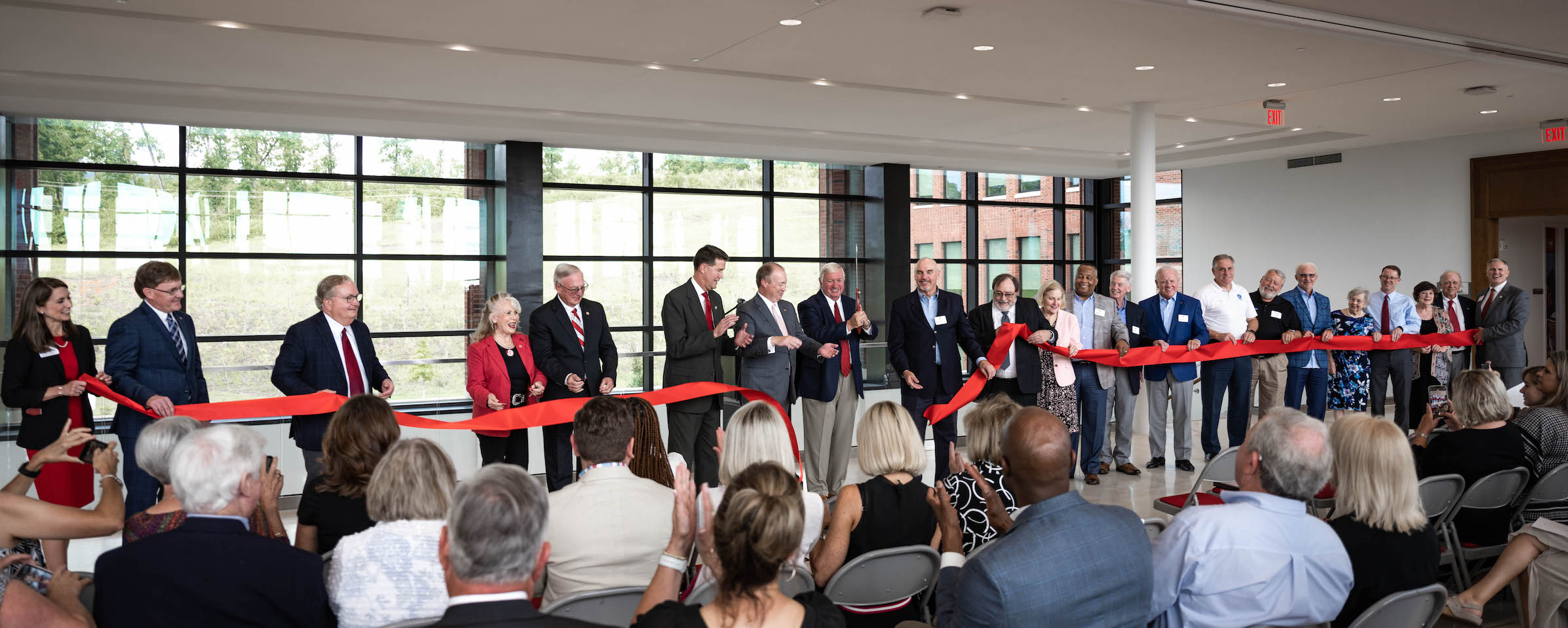 Randy Jones, chairman of the JSU Board of Trustees, cuts the ribbon opening the new Merrill Hall.
by Buffy Lockette
Jacksonville State dedicated its new business building, Hugh D. Merrill Hall, on July 18. The original Merrill Hall was destroyed by an EF-3 tornado on March 19, 2018.
Located on the site of its predecessor, the new 105,000-square-foot building features a 300-seat auditorium, three-story atrium and common space, 12 academic classrooms, a Finance Lab, an in-house Career Development Center, job interview rooms, team working areas for group projects, faculty and staff offices and a coffee shop.
"We settled upon a design that honors the original building but provides all the new features and latest technology not available when the building was first constructed in 1970," said President Don C. Killingsworth, Jr. "The result was a modern twist on the historic campus icon."
Alabama Secretary of State John Merrill, the cousin of Rep. Hugh D. Merrill, was among the speakers at a dedication ceremony held in the new building's three-story atrium. Rep. Merrill was instrumental in helping change the status of JSU from a teachers' college to a state college and ultimately to a respected university. He also served as president pro tempore of its Board of Trustees for 12 years, from 1968 to 1980.
Merrill Hall is home to the JSU College of Business and Industry and houses the Departments of Applied Engineering, Communication, the Lyons & Company, Inc. Department of Management and Marketing, and Finance, Economics and Accounting. It is accredited by AACSB International and offers bachelor's and master's degrees, including a top ranked online MBA.