How Cocky is Your BBQ?
07/14/2022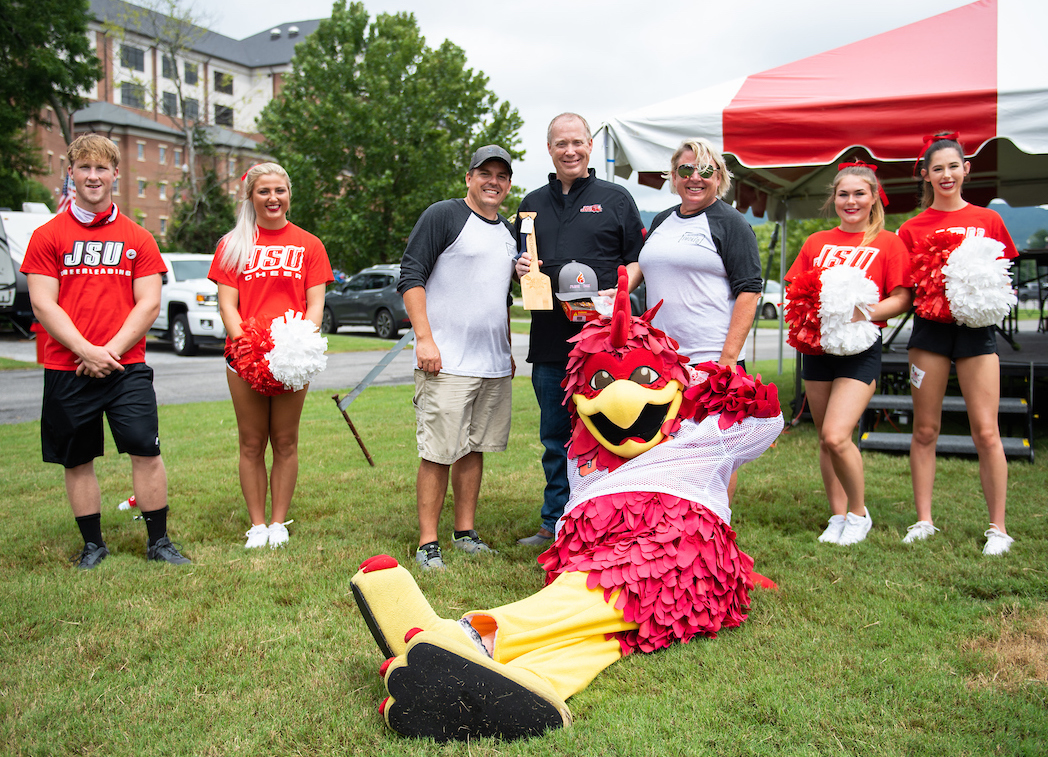 President Killingsworth presents an award to one of the 2021 Cocky Cookoff champions. Photo by Matt Reynolds.
by Katelyn Miskelley  
It's back! The 2nd annual Cocky Cookoff BBQ Competition and Festival is scheduled for Aug. 12-13 at JSU's RV lot, located near JSU Stadium, on Mountain Street. Hosted by the JSU Annual Fund Board, the amateur barbecue competition supports the university's colleges and programs.  
Festivities will begin on Friday, Aug. 12, with a Wine Stroll sponsored by the Office of Alumni Relations. Enjoy a complimentary drink, meet the grill teams and take a stroll through the festival grounds. Admission is free and open the public.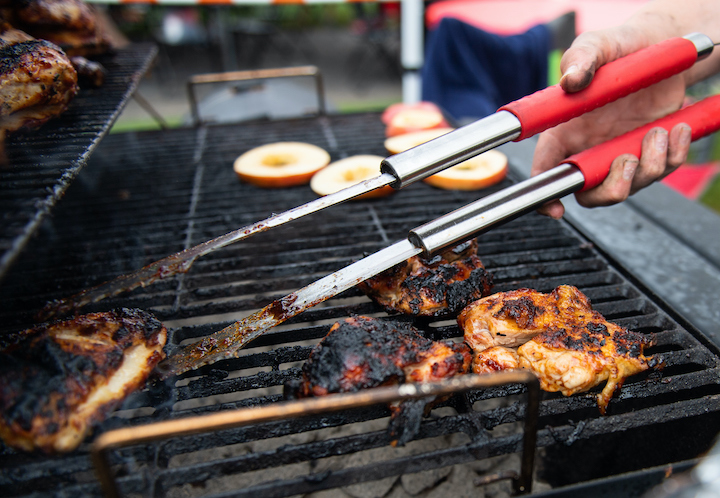 The competition will heat up the following day, Saturday, Aug. 13, when judging for the BBQ competition begins. Grillers will vie for $1200 in cash prizes and the title of "Grand Champion Cocky Griller Master" in two categories – Championship and Backyard – and there will also be a Taster's Choice Competition and Bake Sale. 
A festival surrounding the competition will be held 10:30 a.m. to 3 p.m. on Aug. 13, featuring vendors, food samples, family activities and live music from singer/songwriter Austin Bishop. Admission to the festival is free, but guests can purchase a $20 Pit Pass that includes lunch and a T-shirt. 
In addition to the Wine Stroll and BBQ Competition, the JSU Annual Fund Board is petitioning JSU leadership for a full pardon of Dolly the Chicken from this year's Cocky Cookoff. Support Dolly's Pardon by donating to the college, program, department or scholarship of your choice – and be sure to say "hello, Dolly" when you meet her at the festival. 
For more information on the Cocky Cookoff, including how to become a vendor or a judge, visit jsu.edu/givejsu, text COCKYBBQ to 91999 or contact Amy Schavey, assistant director of the Annual Fund, at 256-782-8240 or aschavey@jsu.edu.