JSU Honors Scholarships
Jacksonville State University is committed to assisting students with financing their college education. Scholarships are awarded on the basis of academic achievement, athletic skills, special talents, and/or financial need. JSU offers several different types of scholarships to help defray the cost of attending school for new and continuing students. JSU-funded scholarships are non "refundable," and unused funds cannot be carried over to subsequent semesters. Each scholarship may be regulated by a different set of requirements. The institution has scholarships that are automatically offered and some that require an application. Don't miss out on scholarship opportunities! Become familiar with the information regarding the scholarships' requirements, award amounts, and deadlines.
For a complete JSU scholarship information, consult the scholarship page or call the Scholarship Office at 256-782-5006.
Scholarship Opportunities
First-time freshmen are eligible for the competitive JSU Honors Scholarship with an ACT composite of 30+ or SAT of 1370+. Qualified candidates must also have a high school GPA of 3.75+.
The JSU Honors Scholarship has an estimated current value over four years of $90,880!
Tuition - $5,145/semester 
Housing - $2,910/semester (Honors Scholarship recipients are required to live in campus housing)
Meal Plan - $1,770/semester
Books - $900/semester
General University Fee - $635/semester
This scholarship requires an additional application and the following requirements: a completed application and essay, a high school transcript through the applicant's junior year, a letter of recommendation from a teacher or counselor, and a high school resumé. We have included a resumé template for your convenience.

For fall 2024 consideration, the application must be submitted by February 1, 2024. Incomplete application files, including unsubmitted test scores, will not be considered for the scholarship. Semi-finalists are selected based on a variety of factors including, but not limited to, academics, a strong pattern of community/school involvement and service, and an essay. Finalists will be invited to participate in an interview with members of the Honors Board. Contact honors@jsu.edu with any questions.
Please contact the Honors Program at 256-782-5696 for questions regarding the JSU Honors Scholarship.
In order to remain in good standing as a recipient of the JSU Honors Scholarship, and graduate with distinction of JSU Honors Scholar Graduate, students must meet the following minimum criteria:
Students must successfully complete two 3-hour Academic Honors courses and one 1-hour University Honors (UH) Participation course in the first and second semesters in the program.  
Students are required to maintain satisfactory progress in completing the requirements of the Honors Program curriculum by successfully completing three 1-hour University Honors (UH) Participation courses by the end of the fourth semester in the program.
All students must maintain a minimum of a 3.25 cumulative GPA. Students whose GPA falls below the minimum are given one semester to correct the deficiency or be suspended from the Honors Program. 
Students must successfully complete 30 or more hours of Honors credit by the time of graduation. A grade of "A" or "B" in Honors courses is required to earn Honors credit.
JSU Honors Scholarship recipients must attend monthly Honors Program meetings.
Recipients must also complete service hours per semester as set by the Honors Board and meet other requirements outlined in the JSU Honors Scholarship contract.
The JSU Honors Scholarship is contingent upon maintaining membership in good standing with the Honors Program. Dismissal from the Honors Program will result in a loss of Honors scholarship funding.
JSU Honors Scholars 2023-2024
Coral Church - Pell City High School
Nathan Clance - Gordon Central High School
Makenzie Fennell - Chelsea High School
Ryan Nix - Hayden High School
Lilly Preciado - North Jackson High School
Danielle Sulenski - Chelsea High School
Riley Surles - Pell City High School
Natalie Wingo - Cleburne County High School
---
JSU Honors Scholars 2022-2023
Arleigh Beard - Sand Rock High School (Cedar Bluff, Alabama)
Cayleigh Fitzsimmons - Starrs Mill High School (Fayetteville, Georgia)
Jaden Holland - Albertville High School (Horton, Alabama)
Natalie Patterson Jacksonville High School (Jacksonville, Alabama)
Sara "Sassy" Pilkington - Pell City High School (Pell City, Alabama)
Madelyn Repzynski - Foley High School (Foley, Alabama)
Jacob Shears - Munford High School (Munford, Alabama)
Linsey Smith - Glencoe High School (Glencoe, Alabama)
---
JSU Honors Scholars 2021-2022 
Victoria Bamigboye - The Ambassadors College (Ota, Nigeria)

Madelyn Guy - Shelby County High School (Columbiana, Alabama)

Taylor Holder - Glencoe High School (Glencoe, Alabama)

Kayla Lee - Southside High School (Southside, Alabama)

Caden Montgomery - Mortimer Jordan High School (Kimberly, Alabama)

Daniel Rich - Sardis High School (Boaz, Alabama)

Ruby Sloan - Homewood High School (Homewood, Alabama)

Callie Stewart - Ashville High School (Ashville, Alabama)
---
JSU Honors Scholars 2020-2021
Ashlynn Abernathy - Oxford High School (Oxford, AL)
Brianna Bailey - Ohatchee High School (Jacksonville, AL)
Celia Calhoun - Alexandria High School (Alexandria, AL)
Millie Hall - Plainview High School (Rainsville, AL)
Laila Hamdan - Iqra Math and Science Academy (Oxford, AL)
Wyatt Ingram - Pleasant Valley High School (Jacksonville, AL)
John Russell Reaves - Cleburne County High School (Heflin, AL)
Abigail Seale - Mortimer Jordan High School (Warrior, Alabama)
---
JSU Honors Scholars 2019-2020
Levi Burt - Sand Rock High School (Fort Payne, AL)
Mallory Gulledge - Gadsden City High School (Gadsden, AL)
Ryan Hayes - Heritage High School (Ringgold, GA)
Makenzie Hill - AP Brewer High School (Falkville, AL)
Dylan Hulsey - Oxford High School (Oxford, AL)
Jordan Johnson - Chilton County High School (Clanton, AL)
Lauren McCarver - Hokes Bluff High School (Hokes Bluff, AL)
Julia Newton - Lincoln County High School (Fayetteville, TN)
---
JSU Honors Scholars 2018-2019
Isaac Graham - Isabella High School (Clanton, AL)
Catherine Jenkins - Plainview High School (Fyffe, AL)
Mason Myrick - Jasper High School (Jasper, AL)
Austin Phillips - Fort Dale Academy (Greenville, AL)
Kaylee Rawlins - Alexandria High School (Alexandria, AL)
Austin Smith - Bremen High School (Bremen, GA)
Katie Smith - Glencoe High School (Glencoe, AL)
Hollie Thweatt - Pell City High School (Pell City, AL)
---
Elite Honors Scholars 2017-2018
Chase Alldredge - Munford High School (Munford, AL)
Mariana Alvarez - Southside High School (Southside, AL)
Tanner Atchley - North Sand Mountain High School (Bryant, AL)
McKenzie Chunn - Auburn High School (Jacksons Gap, AL)
Kate Fleming - Arab High School (Arab, AL)
Christian King - Alexandria High School (Jacksonville, AL)
Abby McDow - Oxford High School (Eastaboga, AL)
Lauren Usrey - Alexandria High School (Alexandria, AL)
---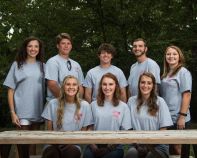 Elite Honors Scholars 2016-2017
Dallen Atchley (Bryant, AL)
Jenna Bennett (Pelham, AL)
Caleb Chambers (Cullman, AL)
Kaleigh Ferguson (Auburn, AL)
Laci Gurganus (Parrish, AL)
Micheal Myrick (Bremen, AL)
Jessica Ray (Pinson, AL)
Amber Smith (Bremen, GA)
---

Elite Honors Scholars 2015-2016
Ashley Adamson (Haleyville, AL)
Sarah Dickey (Hoover, AL)
Maxwell Erb (Winfield, AL)
Ja'Nasia Fort (Muscle Shoals, AL)
Jordan Lucas (Sylacauga, AL)
Daniel Mayes (Groveoak, AL)
Julia McCormick (Bowdon, GA)
Katie Peyton (Cullman, AL)
---
Elite Honors Scholars 2014-2015
Peter Abney (Tallapoosa, GA)
Katie Cline (Jacksonville, AL)
Kendall Gulledge (Southside, AL)
Bailey Heflin (Oxford, AL)
John Mackey (Pike Road, AL)
Sawyer McKay (Henagar, AL)
Krista McNutt (Pell City, AL)
Jennie Tanner (Trussville, AL)
---
Elite Honors Scholars 2013-2014
Alyssa Cunningham (Arley, AL)
Caelan Goss (Piedmont, AL)
Abigail Jaskowski (Jacksonville, AL)
Storm Johnson (Rainsville, AL)
Dylan Kyser (Dora, AL)
Alex McFry (Anniston, AL)
Wesley Schultz (Harvest, AL)
Erin Whetzel (Harvest, AL)
---
Elite Honors Scholars 2012-2013
Lora Corbin (Henager, AL)
Alaina Durham (Bryant, AL)
Trent Ford (Winfield, AL)
Katie Loper (Odenville, AL)
Amanda Parker (Oxford, AL)
David Rickless (Anniston, AL)
Katie Wood (Ranburne, AL)
---
Elite Honors Scholars 2011-2012
Micah Burns (Oxford, AL)
Barbara Edwards (Oxford, AL)
Lea Isbell (Lineville, AL)
Daniel Jackson (Altoona, AL)
Lauren McClendon (Rainbow City, AL)
Emily Smith (Guin, AL)
Noah Trudeau (Gadsden, AL)
---

Elite Honors Scholars 2010-2011
Gregory Felch (Huntsville, AL)
Whitney Gaut (Wilsonville, AL)
Brian Hinkemeyer (Newnan, GA)
Terry Hinkemeyer (Newnan, GA)
Evan Mince (Ft. Payne, AL)
Emilee Smith (Jacksonville, AL)