Safe Zone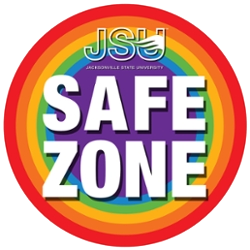 JSU Safe Zone is a campus-wide program that works to ensure a welcoming environment for all gender identities and sexual orientations. By establishing an identifiable network of trained individuals committed to fostering an atmosphere of respect and inclusion, the program provides a safe space for members of the LGBTQ community and their Allies on campus. 
Students can locate Safe Zone areas by locating a Safe Zone sticker on the door of an advocate.  JSU will offer basic and advanced Safe Zone training opportunities every semester to our JSU campus community.  If you want to schedule a departmental training or are interested in helping with the Safe Zone project at JSU, please reach out us at safezone@jsu.edu.
Safe Zone Trainings
Part 1 Basic Training - This initial training covers Core Vocabulary, LGBTQ-Inclusive Language Dos and Don'ts, Privilege, and the Coming Out Process.
Part 2 How to be an Effective Ally Training - This advanced training covers Evaluating your Allyship, everyday College Scenarios, Ally Tips, and Understanding your Role as an Ally.
Fall 2020 Training
The Fall 2020 SafeZone training will be conducted virtually via Microsoft Teams
Part 2 - How to be an Effective Ally Training - Thursday, September 24th from 1 to 3 pm

Part 1 - Basic Training - Tuesday, October 6th from 10 to noon
Spring 2021 Training
The Spring 2021 SafeZone training will be conducted virtually via Microsoft Teams.
Part 1 - Basic Training - Friday, February 5, 2021 from 10 to noon
Part 2 - How to Be an Effective Ally - Thursday, February 18, 2021 from 1 to 3 pm
Registration
Fall 2020 Safe Zone Ally Lunches
The Safe Zone Ally Lunches are open to the JSU community.  The lunches provide opportunities for community members to engage, support, and learn more about LGBTQ+ activities and advocacy opportunities in the local community.
Thursday, October 15th - 1pm (Zoom chat with the Magic City Acceptance Center)


Meeting ID: 744 0138 7228
Resources for the LGBTQ Community
JSU Resources
Support
LGBTQ News
GLAAD - https://www.glaad.org/
GLAAD Campus Ambassador Program - https://www.glaad.org/campus#intro
Reporting Concerns to JSU
Our Sex-Based Harassment and Misconduct policy protects you!  Discrimination based on sex, sexual harassment, sexual assault, domestic violence, dating violence and stalking are all prohibited, regardless of gender, age, position, or authority.  As our policy states:
"Jacksonville State University (JSU) is committed to maintaining a safe, inclusive campus community where all can feel secure and free from sexual harassment, discrimination, and misconduct in the classroom, social environments, recreational environments, residential environments, and the workplace. With this in mind, all members of the JSU community are expected to adhere to the requirements of the law, to the standards set forth in this policy, and to other codes of conduct."
Please report any concerns or contact our Title IX Coordinator Jennifer Argo at jlargo@jsu.edu or 256-782-5769.
Do you have a concern, but it isn't specifically covered by the policy?  You can still report the concern anonymously and we can make sure that it gets to a staff member who can promptly address your concern.
https://us04web.zoom.us/j/74401387228?pwd=LzhEVWF5QnU2aHZ0aUxPTTVMdE5BZz09