Dr. Jim Fairleigh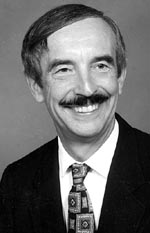 Emeritus Department Head
Dr. James Fairleigh, head of JSU's music department for twenty years before retiring in 2000, died 20 February 2005 in Senaca, S.C.  Dr.  Fairleigh, a pianist and organist, earned his Ph.D. in musicology and a bachelor's in music from the University of Michigan. He earned his master's degree in music theory from the University of Southern California. He was a member of Phi Beta Kappa and many other scholarly and civic organizations. Upon retiring, Dr. Fairleigh was named Professor Emeritus.
Before coming to JSU, Dr. Fairleigh taught at Rhode Island College in Providence, Rhode Island and Hanover College in Hanover, Indiana. Throughout his thirty-five year music career, he performed extensively throughout the United States and Europe.
Dr. Fairleigh served the Episcopal Church of the Ascension as organist and was co-director of the choir. Before relocating to Seneca, he served as minister of music at First Presbyterian Church in Anniston for twenty years, where he and his wife Marlane were members. 
Education
Bachelor of Music, University of Michigan, 1960. Master of Music, University of Southern California, 1965. Doctor of Philosophy, University of Michigan, 1973.
Career
Instructor, assistant professor Hanover College, Indiana, 1965—1975. Associate professor Rhode Island College, Providence, 1975—1980. Professor, head music department Jacksonville State University, Alabama, 1980—2001, professor emeritus music, from 2001.

Director of music First Presbyterian Church, Anniston, Alabama, 1981-2001. Organist, choir director Episcopal Church Ascension, Seneca, South Carolina, since 2002. Presenter, lecturer at meetings of professional organizations, since 1974.
Membership
Served to 1st lieutenant United States Army, 1960-1962. Member American Musicol. Society, American Guild Organist, Alabama Music Teachers Association (certified, treasurer 1982-1986, 1st vice president 1986-1988, president 1988-1990), College Music Society (southern chapter executive board 1996-1998), Music Teachers National Association (certified), Association Alabama College Music Administrators (secretary, treasurer 1985-1989, president 1989-1991), Phi Beta Kappa, Phi Kappa Phi, Pi Kappa Lambda, Phi Eta Sigma, Phi Mu Alpha Sinfonia.