Tuba / Euphonium Ensemble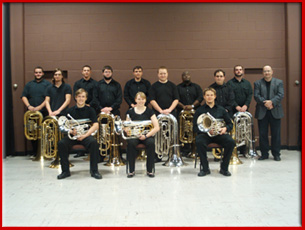 The JSU Tuba / Euphonium Ensemble is made up of Tuba and Euphonium students, who perform anything from Jazz to Pop to Classical music. The members of the ensemble meet once a week to play challenging music, socialize, and have a good time. This Ensemble is open to any Tuba or Euphonium player who is a music major or non-music major. There is no audition; chair positions are often switched to best suit the playing of the music. Occasionally, we invite other instrumentalists to play with the ensemble.
The ensemble is also well known for its performances in our Octubafest Concert Series, as well as our Tubaween Concert performed with the ENCORE! show choir.