Upcoming Canyon Center Events
Canyon Center Events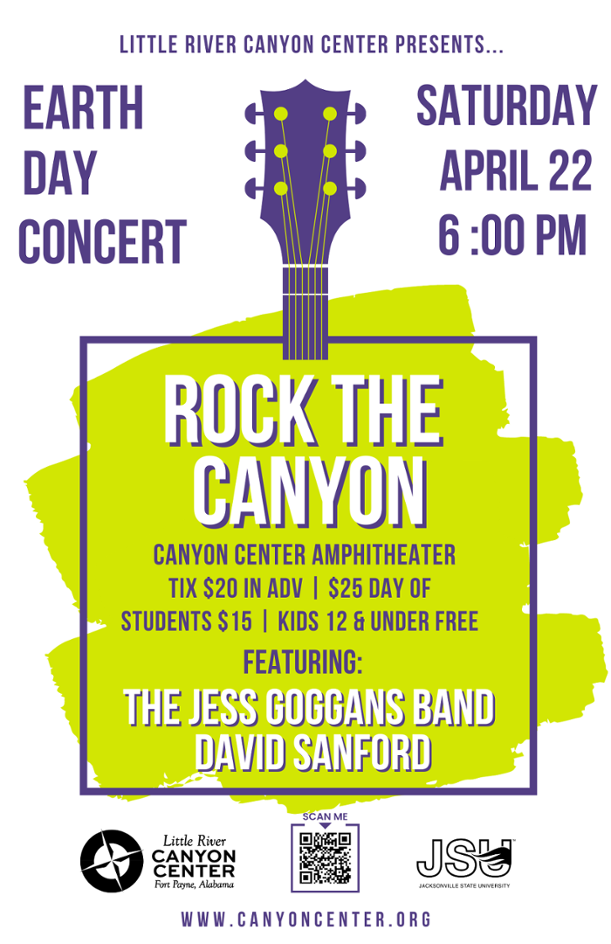 Field School Programs
---
March 2023 
---
March 28 - 31 Spring Break!
March 31 - Opt Outside Day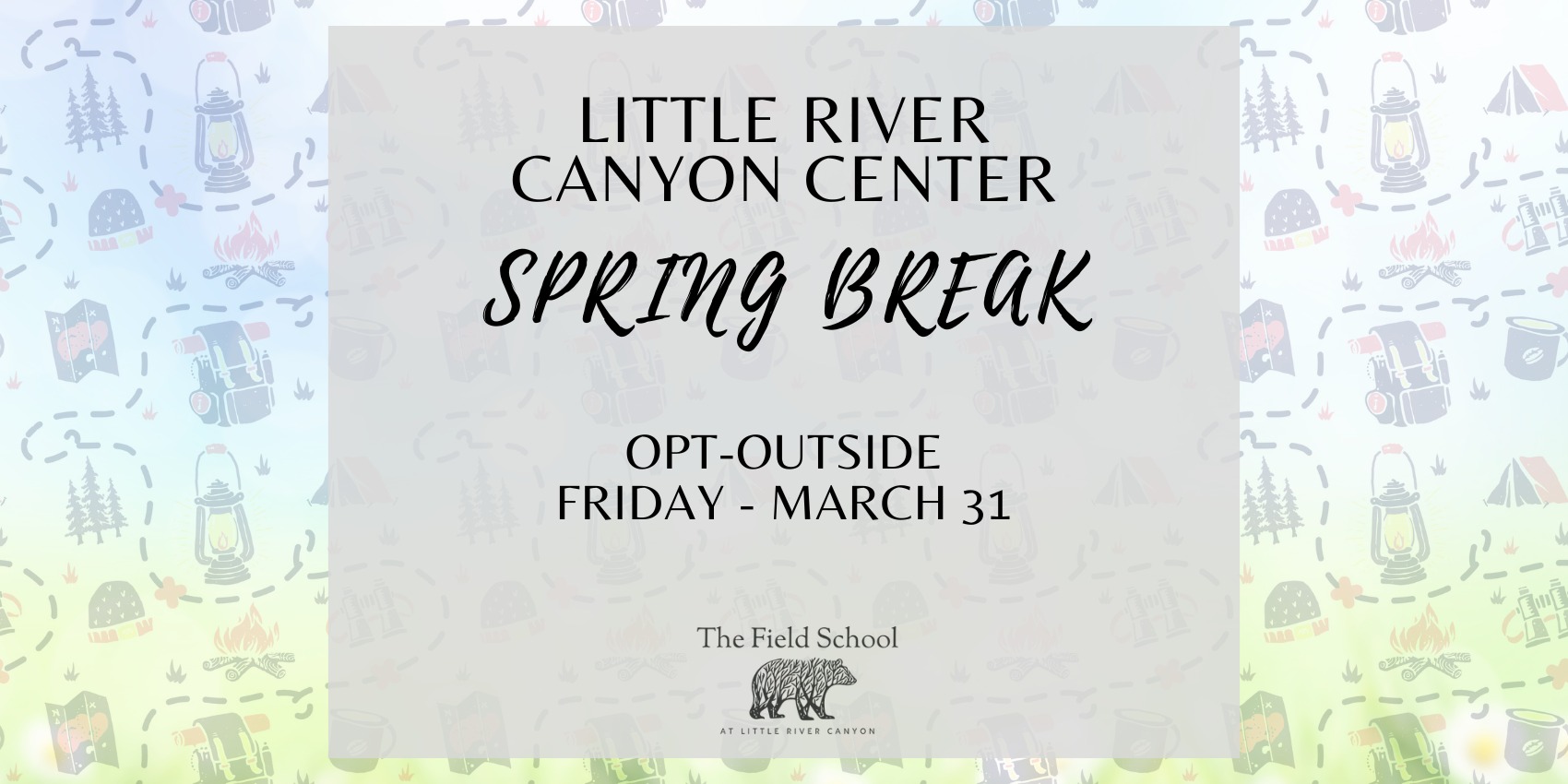 Join us Friday, March 31 as we Opt-Outside. Story Time and Sensory Hike for Kids from 10:30am-11:30am. Guided Hike to Little Falls -1:30pm-3:00pm. Lawn Games will be available throughout the day. Story Time and Sensory Hike will be located at the Little River Canyon Center. This program is designed for children 10 and under, but all ages are welcome.
The guided hike to Little Falls is a strenuous 2-mile hike with varying steep terrain and approximately 140 stone steps into the canyon. Please wear footwear suitable for hiking, bring water, and a snack. Meet at the Main Falls parking lot at 1:30
Date: Friday March 31, 2023.
Time: 10:30 - 11:30am & 1:30- 3:00pm.
Location: The Little River Canyon Center & The Little River Falls.
Fee: Free programs, no registration required.
---
April
---
April 1 - Hike With a Naturalist - Plant Discovery Hike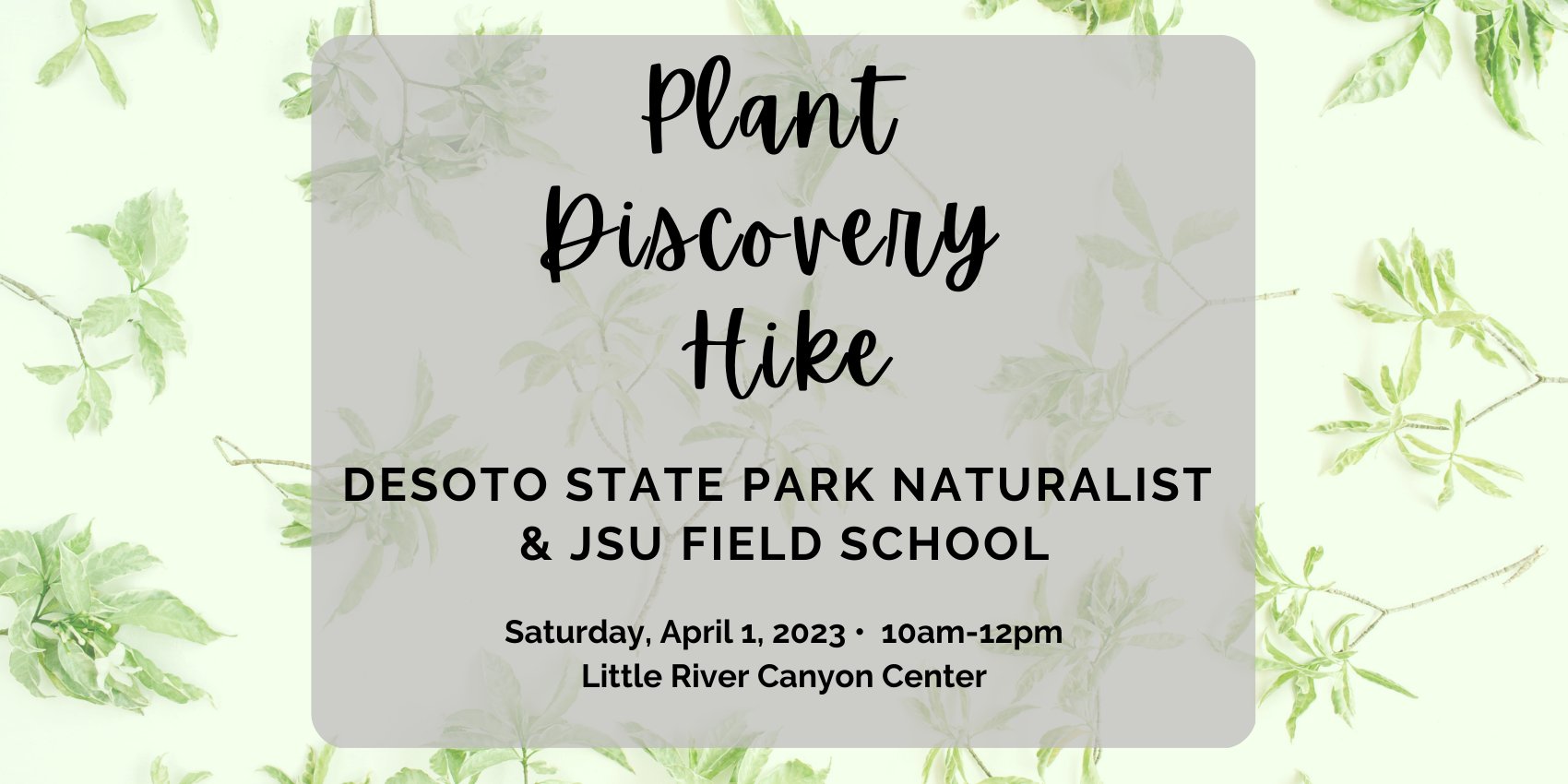 Join JSU Field School staff and DeSoto State Park naturalist, Brittney Hughes, for a meandering journey within the forest, taking in every opportunity to learn more about the natural world. On this hike we will identify many native plants of the southern Appalachians and will be teaching you how to recognize the species found in the park. Bring a notebook/camera if you wish and discover what can be seen along the trails. All ages welcome
Things to bring: Plenty of water and/or sports drink, snacks, hiking poles/staff (optional), sturdy shoes (open toe shoes are not recommended). Please be sure to dress appropriately according to seasonal temperatures/weather.
WEATHER: As with all outdoor events, if it's raining/stormy or very poor trail conditions, we may have to cancel. If the weather is questionable, please check with the park before leaving home. Please make every effort to arrive early or on time. 
Date: Saturday, April 1, 2023
Time: 10:00-12:00
Location: Littler River Canyon Center. Trail is TBD.
Fee: Free and open to everyone! For details, contact 256-845-3548 (Canyon Center)
April 1 - Family Pottery Workshop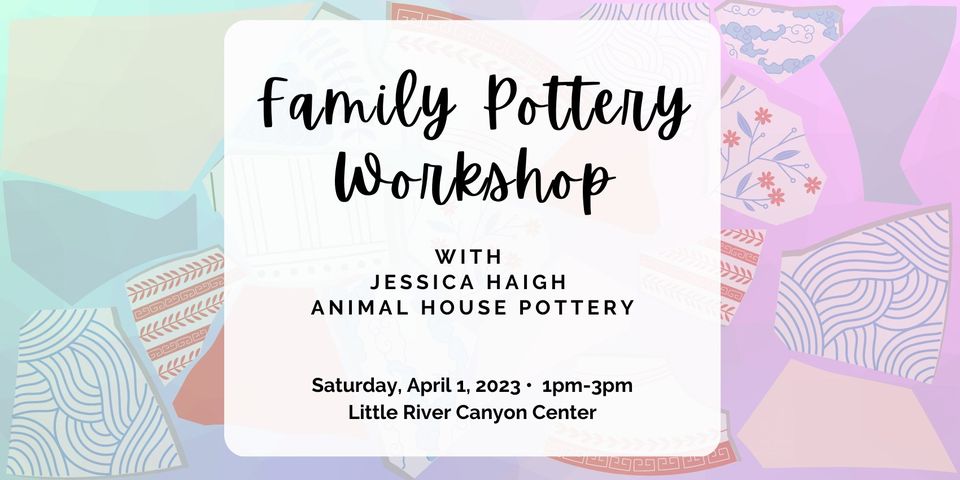 Join artist Jessica Haigh of Animal House Pottery and create your own wind chimes and "poof pot' (small dish)! This class is designed for beginners with little or no pottery experience. Participants will create awesome finished products they can be proud of without having to spend long hours on the process.
Date: Saturday April 1, 2023
Time: 1pm – 3pm on Saturday, April 1, 2023.
Location: Little River Canyon Center.
Registration includes: 2lbs of clay, tools, paints, and instruction. Pre-registration is required.
Fee: $35 per participant. No refunds after March 20. For questions please email rmtaylor@jsu.edu or call 256-845-3548.
April 14 - Photography Workshop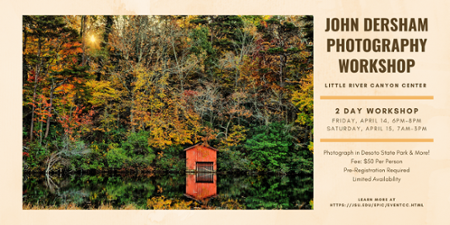 Join Fine Art Photographer John Dersham for an all-new two-day photography seminar. Learn through a combination of classroom lecture and hands-on field experience at the Little River Canyon Center, Desoto State Park, and DeKalb County.Learn how to improve your photography by learning tried and true compositional rules. In addition, learn about lighting and strategies that will provide more visual impact to your pictures. Hikes are easy to moderate (optional).
Date: Friday, April 14th from 6pm-8pm and Saturday, April 15th from 7am-3pm Where: Little River Canyon Center in Fort Payne What to bring: Camera, tripod, Neutral Density filter (optional), snacks and drinks. (Class will stop for an early lunch or you can bring one from home.) Fee: $50 per person; pre-registration required; call 256-845-3548 for more information; no refunds after April 7, 2023.
April 22 Earth Fest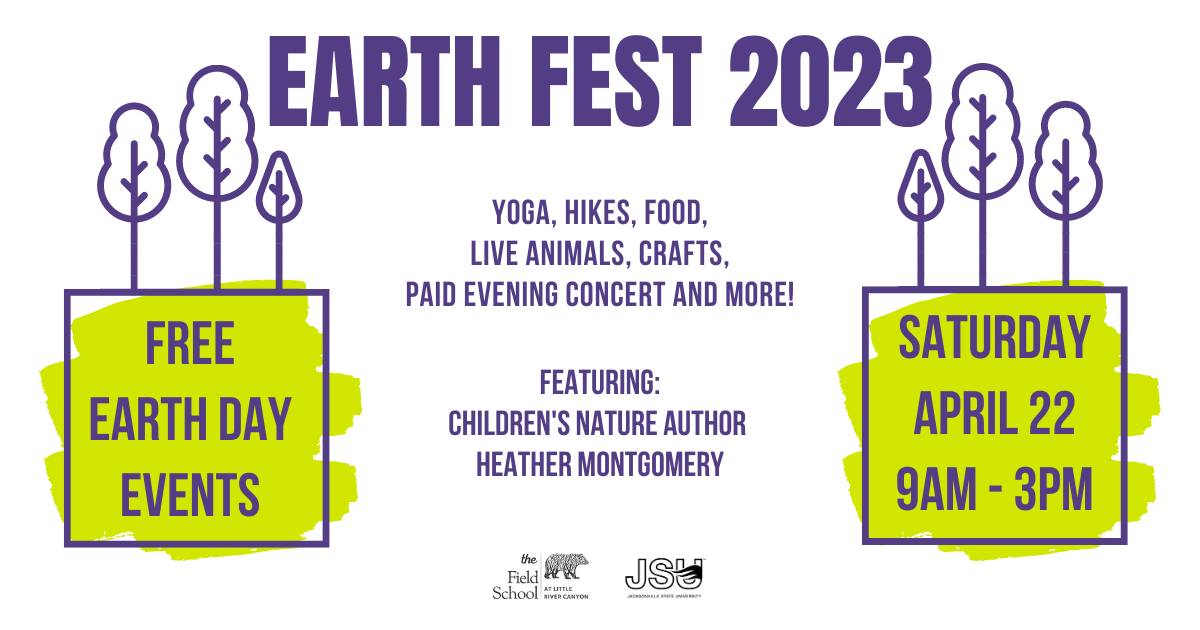 April 22 Canyon Rocks Concert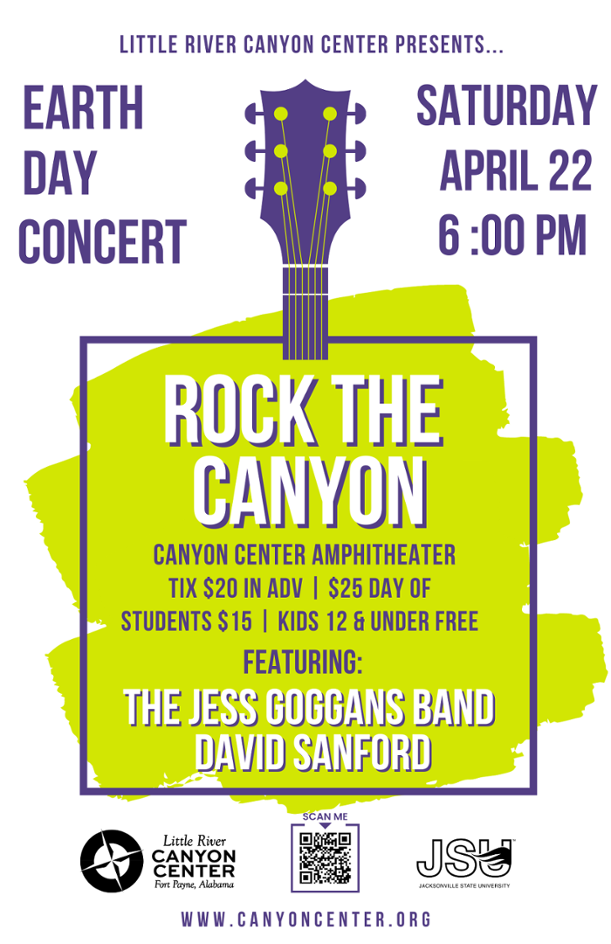 April 22, 2023 | 6PM
Featuring The Jess Goggans Band and David Sanford
April 30 - Fly Fishing 101 Workshop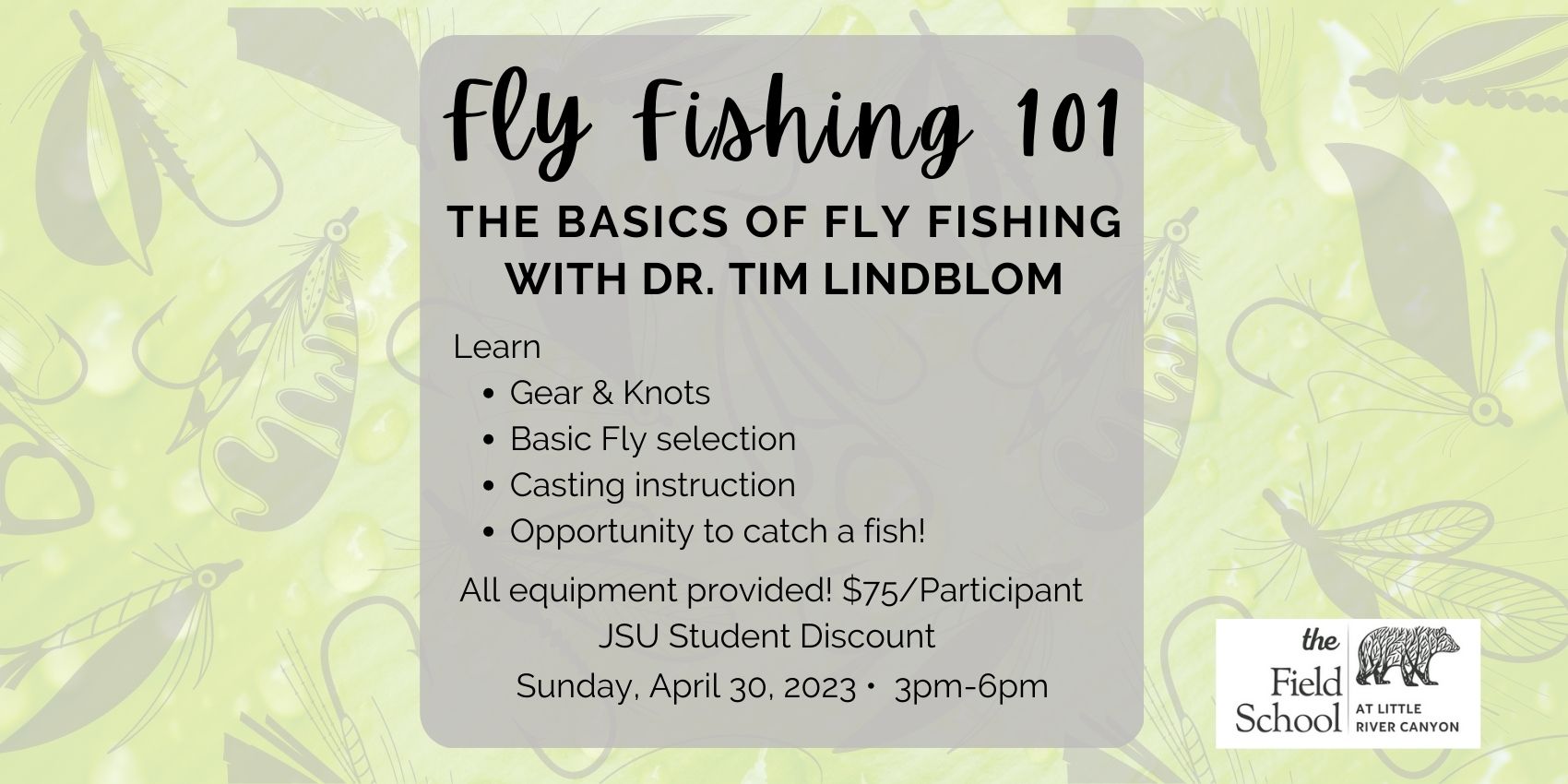 Join Dr. Tim Lindblom to learn the basics to get started on your own fly fishing adventures! We will be discussing what gear is needed, knots, basic fly selection, and casting instructions. Participants will get hands-on experience and the opportunity to make that first catch! Ages 14 and over are welcome. Register today! Spots are extremely limited!
Date: Sunday, April 30, 2023
Time: 3 pm - 6 pm Fee: $75 per participant OR $35 for JSU Students with School ID. No refunds after April 14.
Location: Little River Canyon Center in Fort Payne, AL
What to Bring: Please bring water, sun protection and a snack. All equipment will be provided, but you are welcome to bring your own.
---
May
---