Emergency Management Coalition of Eastern Alabama
EM Coalition Vision: The Emergency Management Coalition of Eastern Alabama enhances emergency preparedness in the region by facilitating communication, cooperation, and professional development among public safety agencies, students, and community stakeholders.
Active Partners: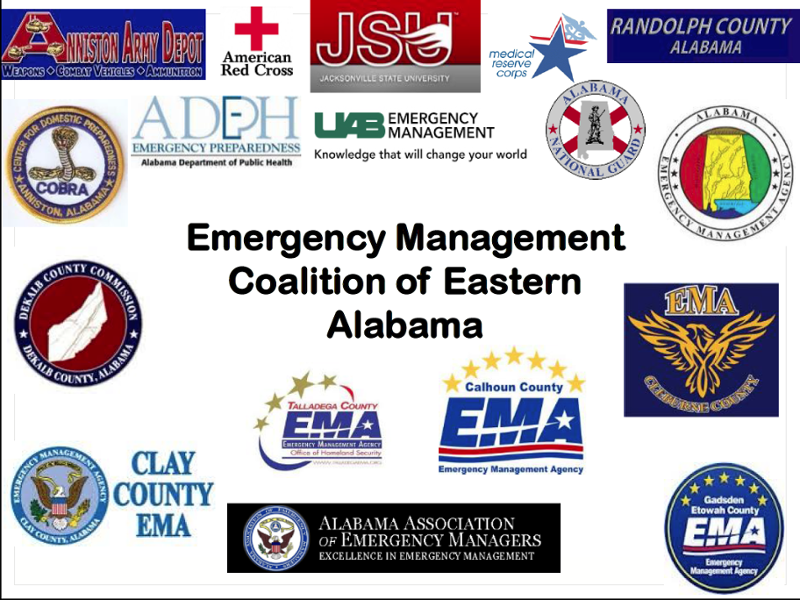 Meetings and Activities:
Division G Winter Weather Workshop

JSU EM Department will host a Winter Weather Workshop for Division G (Region 7) of the Alabama Emergency Management Agency on November 18th. The purpose of the workshop is to prepare State and local agencies for severe winter weather. Snow and ice storms have been challenging for Alabamians here in central and eastern Alabama for the past two years. Division G will support regional disaster response and recovery requests from local Emergency Management Agencies. The workshop is designed to help state agencies anticipate requests that they may be providing support for and to discuss difficult issues encountered in severe winter storms.
Eastern Alabama EM Coalition Meeting

On October 7th, the Eastern Alabama EM Coalition met at JSU. Coalition members provided an update of their activities and presentations were given by Bernice Zaidel of the Center for Domestic Preparedness (DHS/FEMA) and LTC Joe Kelly of the 167th Theater Support Command. The next Coalition meeting will be held sometime in April, 2016. Date and time TBD.
PPTs from previous meetings
For Further Information Contact:
Dr. Tanveer Islam
Department of Emergency Management
Jacksonville State University
(256) 782-5938
tislam@jsu.edu