Rebecca O. Turner Faculty Commons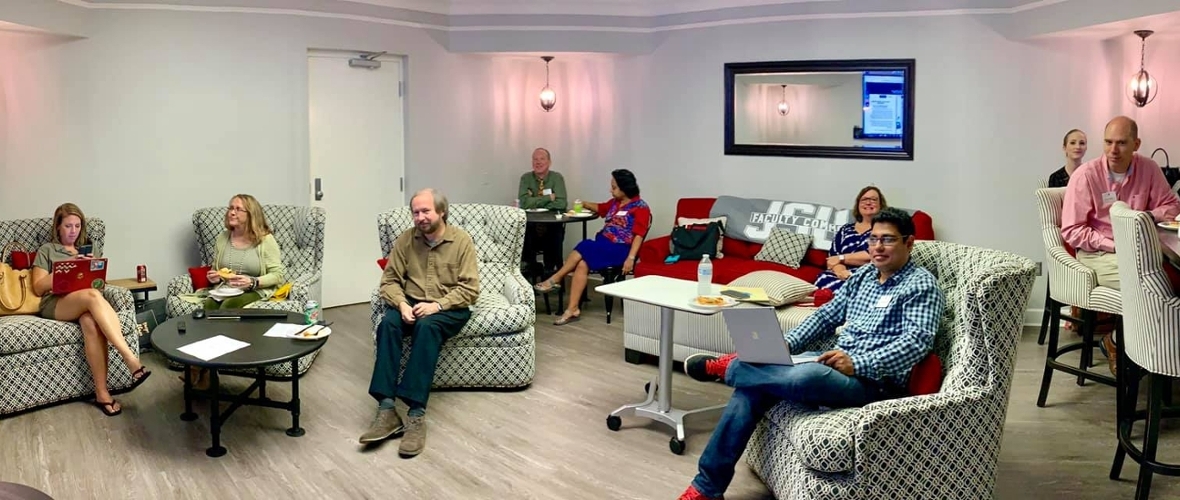 Established in the Spring of 2014, the Faculty Commons is JSU's Center for Excellence in Teaching and Learning. The Faculty Commons provides faculty training and professional development opportunities for the JSU faculty, our CORE partners in Pk-12 schools, and the JSU community. The Faculty Commons was established in response to Strategic Objective 1.1, which states "the University will create, furnish, equip, and staff a Teaching and Learning Center" (approved 10/17/11).
The Faculty Commons supports all areas of teaching and is open to suggestions and/or requests from faculty concerning the programs offered. In addition, in partnership with Online@JSU,  the Faculty Commons strives to support faculty use of technology and online instructional design techniques to the fullest extent possible.
About Dr. Rebecca O. Turner
Throughout a 38-year career at Jacksonville State University, serving as a faculty member, department head, and as provost and vice-president for academic affairs, Dr. Rebecca O. Turner provided exemplary teaching, service, scholarship, and leadership to the University community and beyond. The hallmarks of her character— empathy, optimism, innovation, and perseverance— combined with an unparalleled work ethic, a heart for service to others, and a keen understanding of JSU, shaped her career and led to notable and far-reaching accomplishments for the University.
Initially, as a faculty member, she helped create a top-rated, accredited Bachelor of Social Work; and more recently, as provost, she led development of a Master of Social Work. As provost, she encouraged and supported the development of many new academic programs at the bachelor's and master's levels and was instrumental in the creation of JSU's first two doctoral programs. Always focused on the best interest of students, she initiated JSU's transformation to a learning-centered campus, through expansion of academic support services for students and professional engagement opportunities for the faculty. In 2014, she supported establishment of the Faculty Commons as a Center for Excellence in Teaching and Learning, offering innovative professional development opportunities for the JSU faculty.
On April 16, 2019, the JSU Board of Trustees approved a resolution declaring that the Faculty Commons would be renamed the Rebecca O. Turner Faculty Commons, in recognition of Dr. Turner's extraordinary service to the University. A plaque, presented by the faculty and administration of Jacksonville State University on April 18, 2019, honors and celebrates her legacy.