ID Cards
Before you start enjoying the new dining changes on campus, you will need to receive your new identification card. The J-Card system will be used this semester for housing access, dining and CockyBucks. You can use your new J-Card as a "tap to pay" payment option at dining locations, allowing for a quicker and easier food purchase.
While new students and current staff members should have received their J-Card during Orientation, returning students can visit the ID office to swap out their old card for their new card. You can now manage your card through the portal located on your myJSU account.
The J Card is the official student ID card that is used for housing access, dining, and CockyBucks. You can manage your card through the portal located in your myJSU.
In Fall 2022, JSU decided to move to a more centralized and secure ID card system. This card will no longer require you to swipe.
If you are having issues with your housing access, you will need to contact Housing and Residence Life by email at housing@jsu.edu or by phone at 256-782-5122
For issues with your meal plan, flex dollars, or CockyBucks, students will contact Dining Services by email at
For support with your online portal, you will contact JSU IT
We recommend submitting your photo ahead of time for your ID to be printed. Please visit the JSU ID Card Management Portal to submit a photo for your ID. This will need to be done the day before you come to pick up your card. This will allow enough time to print the card and have it ready.
Here are some guidelines for the picture and an example featuring Cocky:
Guidelines:
Must be taken against a plain, lighter color background
You must be centered in the picture
Must be high-quality (Not blurry, too light, or too dark)
No hats, sunglasses, or hoods unless it qualifies as a religious garment
You must be the only person in the picture
Cannot be a full body picture
Example of Approved Photo: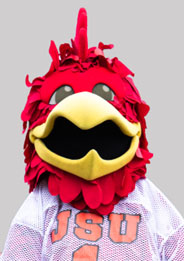 If you choose not to submit your photo ahead of time you will need to visit the JSU ID Office located on the 4th floor of the Theron Montgomery Building (TMB) next to the Mail Center. You will be able to take your photo there and have it printed while you wait. Please be aware that this can result in added wait time to receive your new ID card.