Already Admitted?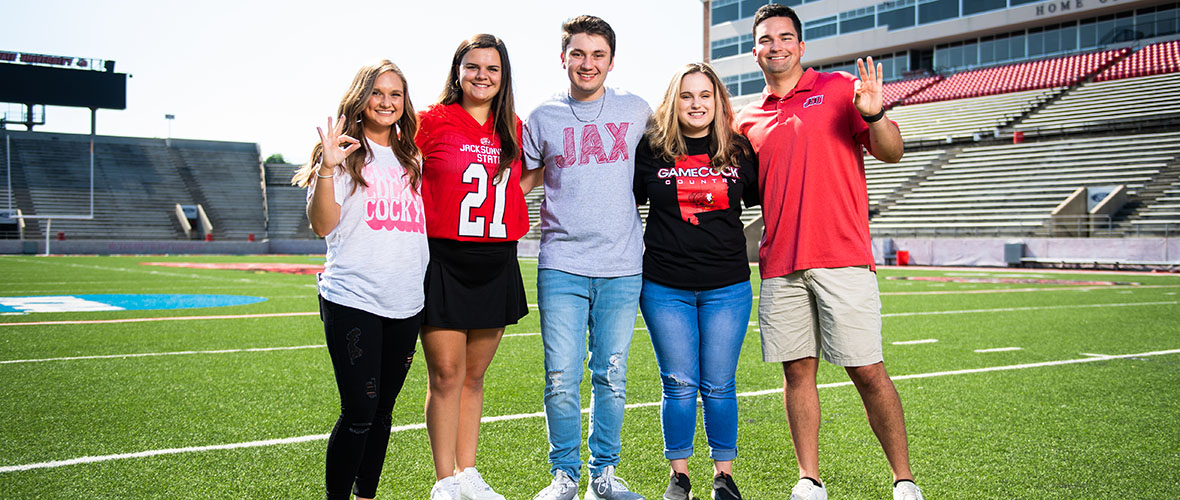 Congratulations and welcome to Jacksonville State University! Below you will find a checklist of next steps that will help you complete the enrollment process. First year students are mailed a Welcome to JSU Packet upon their admission.
Take note of your JSU Identification Number.
Your nine digit JSU Identification (ID) Number is located at the top of your acceptance letter. You will use this number to reference your personal student information when contacting offices on campus.  
Log in to your MyJSU account & change your initial password.
Your username and initial password are located at the bottom of your acceptance letter. You will use this username and initial password to access your MyJSU account to view personal student information, view your financial aid information, and access many other options.  After logging in the first time, you will change the password to a different password than the initial password. Also, you are required to answer three security questions and add a unique question and answer.  It is recommended that you memorize your username and password.
Log in to your JSU Email, known as GEM (Gamecock Enterprise Message).
Each student is assigned a JSU E-mail account upon admission. The E-mail address is located at the bottom of your acceptance letter.  Visit Office 365 to log in.  Please start checking your JSU E-mail account frequently as important information is communicated via this account.
Apply For Housing
First-Time-Freshmen are required to live on campus unless they reside in an exempted county or qualify for an exemption. For more information, please review the Guide to Residence Living on the University Housing & Residence Life website.
All first year students must submit a Residence Hall Application/Lease Agreement OR a First Year Live-on Exemption Form.
First-Time Transfer students have the option to live on campus and can apply for one of our upperclassmen housing options.
Apply For Financial Aid & Scholarships
Most aid programs are based on the individual need of the applicant. Demonstrated financial need is determined by the Free Application for Federal Student Aid (FAFSA) on the web at www.fafsa.gov. The JSU Title IV Code is 001020.
We also offer various scholarships for entering freshmen as well as returning students and transfer students. Most scholarships are based on the applicant's academic or extracurricular record, while some are based on demonstrated financial need.
Students are encouraged to apply for competitive scholarships each academic year by Feb. 1st.View available scholarships and begin applying through your myJSU account, under View/Apply for Scholarships.
Attend Admitted Student Day or a Next Step Night
Admitted Student Days are a great chance for incoming first-time freshmen students to meet with faculty in your major and get started on your journey to JSU. We also offer Next Step Nights and Admitted Student Meetings. 
More information on Admitted Student Day & Next Step Nights

Gamecock Orientation

First-Time-Freshmen between the ages of 18-24 are required to attend Gamecock Orientation before the beginning of their first semester at Jacksonville State University. Each Orientation session is designed to meet the needs of ALL new students and their families so that they may grow and thrive at JSU. Orientation is just the beginning of a very exciting time for JSU students, so it is our hope that the experience at Orientation will be most enriching and rewarding.
We have orientation specially designed for transfer students as well. Students get officially introduced to JSU and they get to meet faculty, staff, and other transfer students.
Get Advised and Register for Classes (First Time Transfer & Continuing Students)

If you have transferred credit to JSU, your transcripts are evaluated by the Registrar's Office. When complete, you can view your evaluated credit on MyJSU under Student Records by choosing Academic Transcript. The official evaluation of your transfer credit will be needed when you contact the department of your major and request an advisor.

Contact the Transfer Admissions Counselors for more information
All JSU students are allowed to have a vehicle on campus. Please make sure you read and understand the different parking options and fees. You can register your vehicle at my.jsu.edu. The university also has on-demand campus transit. Learn more about this service on the campus transit website.
Any Questions?