Theron E. Montgomery, 1981-1986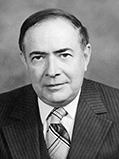 A native of Spartanburg, S.C., Dr. Theron E. Montgomery served in World War II before completing a bachelor's degree at Wofford College. He continued his education with a master's degree and Ph.D. from Duke University.
Montgomery played an instrumental role in JSU's development throughout his 36-year tenure. Arriving on campus in 1950 under the administration of President Houston Cole, he initially served as a sociology instructor. He was promoted in 1955 to dean of the university and, in 1971, as vice president for academic affairs. He assumed the presidency on July 1, 1981, and remained in the office until his retirement in 1986. 
On August 25, 1951, Montgomery married the school dietitian, Ada Bounds, originally from Tuscaloosa.
Montgomery's impact continues to be felt on campus. During his administration, departments began seeking individual accreditation for their specific programs and the athletic teams excelled, including the All Sports award, which honored the outstanding program in the Gulf South Conference. The university also purchased the historic Roebuck home, now the Alumni House, which offers alumni a place to gather when they return to campus.
Dr. Theron E. Montgomery passed away on February 10, 2015 in Calhoun County at the age of 90. His wife of 63 years, Ada Bounds Montgomery, preceded him in death in September 2014. The university's student commons facility – the Theron Montgomery Building – is named in his honor.