Clarence William Daugette, 1899-1942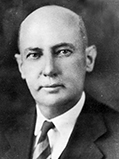 Born on October 14, 1873 in Monroe County, Clarence Daugette attended school in Monroeville during his formative years. He later went to Auburn, where he earned a Bachelor of Science in 1893 and a Master of Science in 1894. During that same year, Daugette came to the Normal School to teach science. Shortly thereafter, he met Annie Rowan Forney, President Jacob Forney's sister, and the couple was married on December 22, 1897. Daugette continued as a science instructor until 1899, when he assumed the presidency following his brother-in-law's resignation. Though he held the highest position at the Normal School, Daugette continued his own education even after assuming the presidency. During the summers of 1901 and 1903, he attended the University of Chicago, and received his honorary Doctor of Laws degree from the University of Alabama.
"For 43 years Daugette was an energizing force in a growing education center. With keen business ability in managing meager resources and a firm resolution to expand facilities, he dreamed and built as the years passed. He laid the foundation for Jacksonville State University and for the students who would become leaders in Alabama and throughout this country." (Sawyer, p. 26).
Daugette held the longest presidency in the history of Jacksonville State University, and his influence is felt even to this day. Daugette Hall is named in his honor, in addition to a scholarship fund bearing his name.