International House Honors Student Achievements at Awards Banquet
International House Honors Student Achievements at Awards Banquet
04/24/2018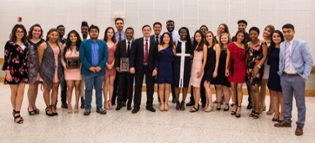 During the annual International House Awards banquet held on April 13 in the TMB Auditorium, six Gamecocks living in the JSU International House were honored for their contribution to the program, their academic achievements and for living the mission of the house, which is "Know one another, and you will love one another."
Award recipients include:
Javier Burrows of Birmingham, the Sharon Lindsey Dempsey Award
Maria Jimna Ortiz of Guatemala, the James H. Jones Award and Alpha Delta Kappa Award
Aramide Okunowo of Nigeria, Alabama Federation of Women's Club Award
Sabin Banjara of Nepal, Anniston Rotary Award
Nina Phany Gangbo of Benin, District Rotary Scholar (Spain-Hickman Estess)
Kenia Lopez of Mexico, the John R Stewart Award
Clarence Daugette was also presented the Clay and Betty Award for his lifelong friendship and work with the International House Foundation.
The JSU International House is a global learning and living community program that strives to contribute toward the globalization of our campus and community. Currently, 21 different countries are represented in the house including the United States.