International House Hosts Annual Awards Banquet
04/18/2017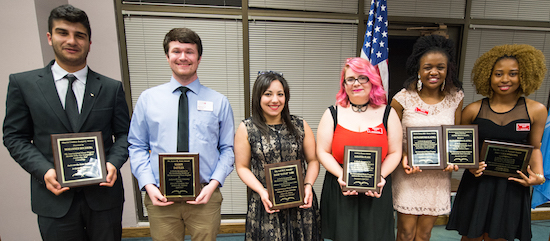 On April 14, 2017, the annual International House awards banquet, sponsored by the International Endowment Foundation, banquet was held in the Houston Cole Library. 
The JSU International House (IH) is a global learning and living community program that strives to contribute towards the globalization of our campus and community. Currently, 23 different countries are represented in the house including the United States. Students living in the IH were recognized for their outstanding contribution to the program, their academic achievements and for living the mission of the house, which is "Know one another, and you will love one another."
The program was opened by JSU President Beehler and hosted by Mr. Koven L. Brown, Chairman of International Endowment Foundation, and Ms. Chandni Khadka, Director of International House & Programs.
University officials in attendance were: Dr. Rebecca Turner, Provost and Vice President for Academic Affairs; Dr. Joe Walsh, Vice Provost and Interim Director for Graduate Studies; Ms. Lisa Williams, Associate Vice Provost; Dr. David Dempsey, professor of mathematics; and Dr. Heidi Dempsey.
The IEF board members and their spouses in attendance were: Mr. Koven Brown and Mrs. Mandee Brown; Mr. Bill and Mrs. Susan Acker; Mr. Ed and Mrs. Lynne Isom; and Ms. Sheila Gilbert. Mr. Guice Potter and Mr. Clarence Daughette were announced as Emeritus Board Members for their lifelong friendship and work with IEF. 
Ex-Officio member of IEF and Rotary District Governor Mr. Gary Andrew was present with his spouse. Also, Alabama Federation Women's Club (AFWC) President-elect Ms Christine Steele was in attendance.
Pictured students and their awards are as follows (from left to right):
The Sharon Lindsey Dempsey Award- Mohammed Bouzouba, Morocco
The James H. Jones Award-Mason Battles, USA
Alabama Federation of Women's Club- Hajar Tahri, Morocco
Anniston Rotary Award- Samantha Flagg, USA
District Rotary Scholar (Spain-Hickman Estess)- Oluwatofunmi Olayinka, Nigeria
Alpha Delta Kappa Award- Oluwatofunmi Olayinka, Nigeria
The John R Stewart Award- Precious Mmegwa, Gambia
Mr. Phil Sanguinetti received the Clay and Betty Award for his contribution to the International House program for past more than 40 years.
JSU is thankful to have such outstanding students and people who are willing to invest in the future of a program that touches lives all over the world. For more information on the International House and its events, please click here.
Photo courtesy of the International House.