"The Tempest" is Brewing on JSU Stage
01/27/2017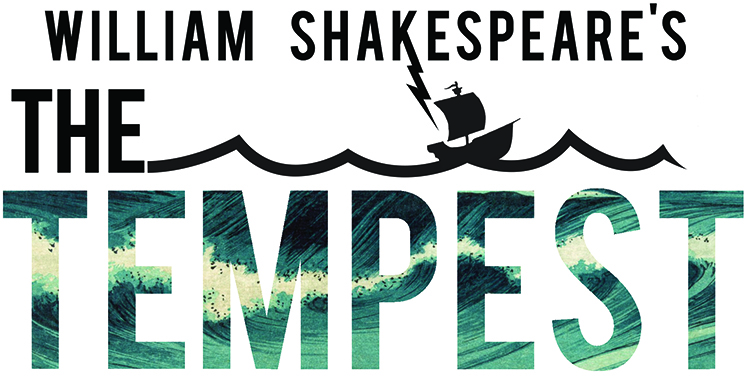 Artwork by Brandon Vernon
By John Sterling
Whistling wind and howling gale, magic and wonder, romance and intrigue – "The Tempest" is blowing into Jacksonville State University, where the Department of Drama will present the Shakespeare masterpiece on Feb. 16-19 at the Ernest Stone Center for the Performing Arts.
One of Shakespeare's last plays, unveiled several years after his death, "The Tempest" is a tale of betrayal, anger, mystical might and worldly wisdom. When the wizard Prospero, the wrongfully exiled Duke of Milan, conjures a magical storm to shipwreck his usurping brother and a host of others on his enchanted island, nothing can prepare them for the fantastical world they are about to enter.
Full of magic and spirits, the island is the perfect setting for Prospero to set right the wrongs of the past and ensure a happy and prosperous future for his beloved daughter Miranda. With the island full of adorable young lovers, dark political intrigues and even a bawdy drunken monster, will Prospero be able to orchestrate his master plan to conjure up a happy ending for all?
"Prospero is a great role for any actor, with a wide range of emotion – and some of the most evocative speeches in Shakespeare," said Dr. Pitt Harding, Associate Professor of English, who will play the protagonist in the upcoming play.
Director Michael Boynton, an Assistant Professor of Drama, said the department made a point of choosing a Shakespeare play for this season's lineup. He said, "We knew it would be good for the students, the campus community, and our audience would just love it."
Dr. Carmine Di Biase, Professor of English, is serving as a dramaturge for the production, consulting Boynton and the 26-member cast to ensure the play is as authentic a production as possible. It was Di Biase and Boynton working in tandem that led to this interpretation of the script, which Di Biase feels is as close to the performances given during Shakespeare's time as is possible.
"The director's concept is something that remains top secret until opening night, but what I can say is that the 'overdone' interpretations have been avoided," said Di Biase. "The interpretation is beautifully coherent."
Show times are Feb. 16-18, 7 p.m., and Feb. 19, 2 p.m. A special school field trip performance will be held on Feb. 17 at 10 a.m. Tickets are $10. For more information, visit www.jsu.edu/drama or all 256-782-5648.