Alumni Hall of Fame
We are now seeking nominations for our 2020 Education Hall of Fame! Qualifications: must be an alumni of Jacksonville State University with a degree in one of the following program areas - Early Childhood Education, Elementary Education, Special Education, Family & Consumer Sciences, Library Media, Teacher Leader Specialist, Instructional Technology, Clinical Mental Health, School Counseling, Secondary Education, Instructional Leadership, Dietetics, Physical Education, and Music Education. Nominees must have at least FIVE years of experience in their field. Nominees should exemplify excellence and dedication in their field. Community service is a plus!
Applications will be accepted through the end of January 2020. 
2019 JSU School of Education Alumni Hall of Fame Inductees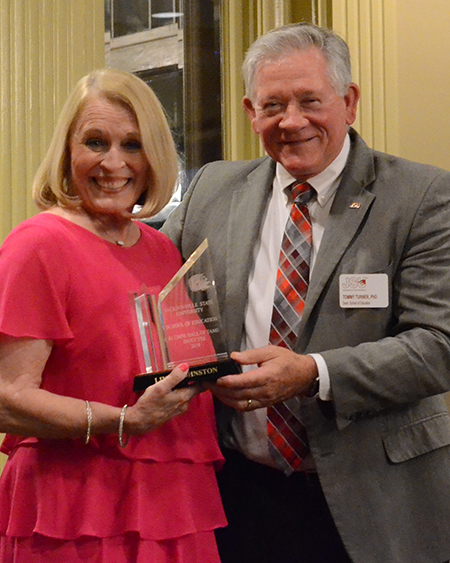 Dr. Linda Johnston
Special Education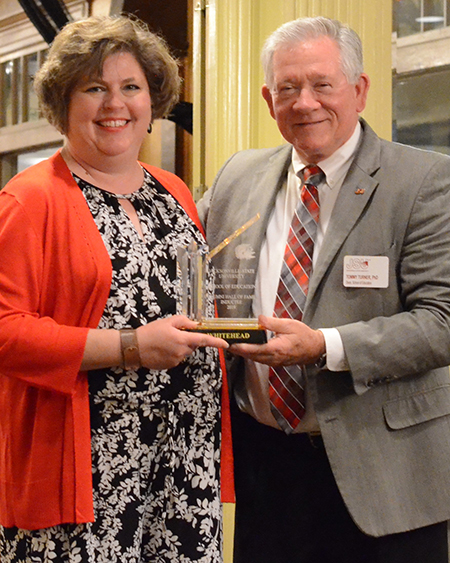 Dr. Cara Whitehead
Early Childhood Education
Ms. Ashley Williamson
Elementary Education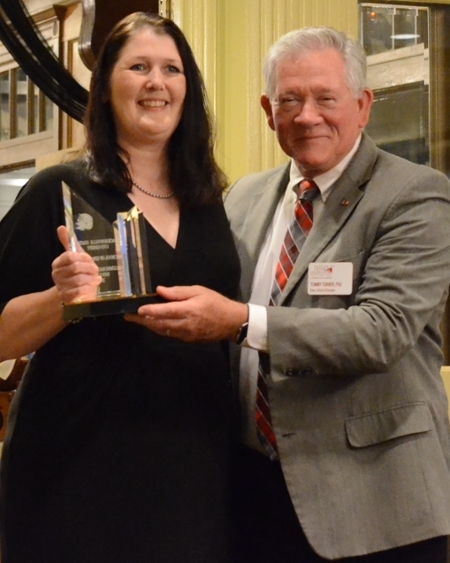 Ms. Kristie R. Barnett
Library Media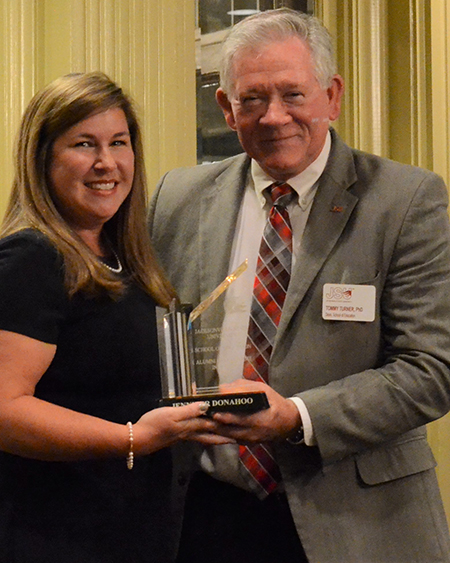 Ms. Jennifer Donahoo
Teacher Leader Specialist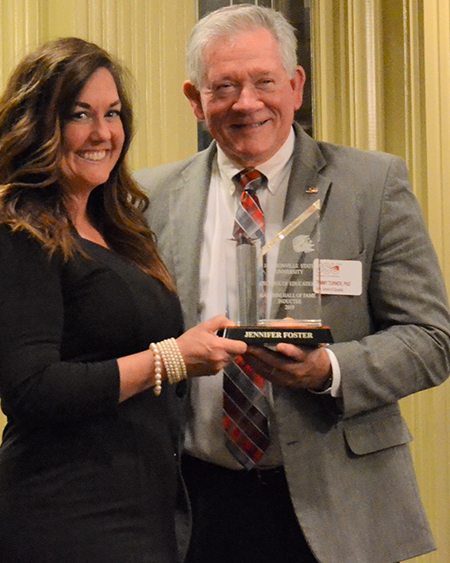 Ms. Jennifer Foster
Instructional Technology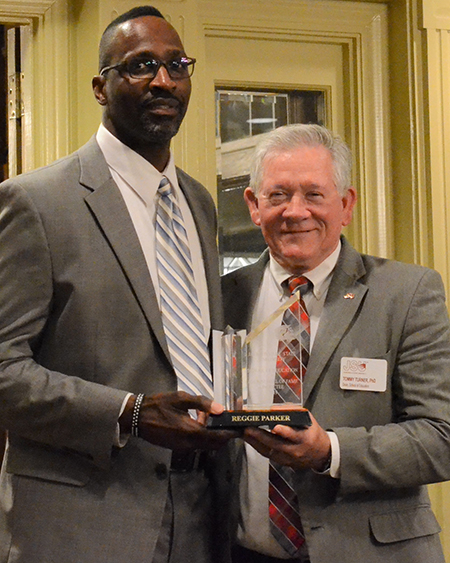 Mr. Reggie Parker
Clinical Mental Health Counseling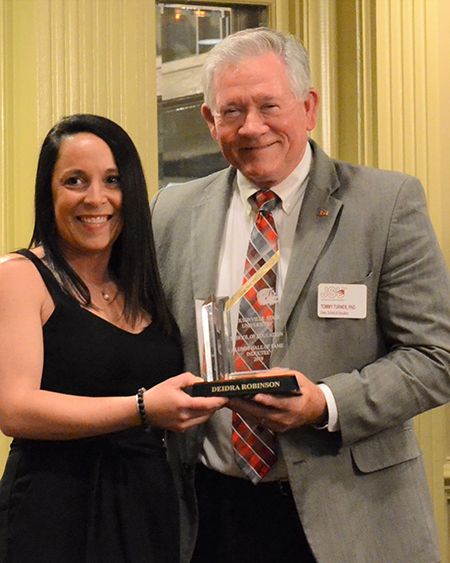 Dr. Deidra Robinson
School Counseling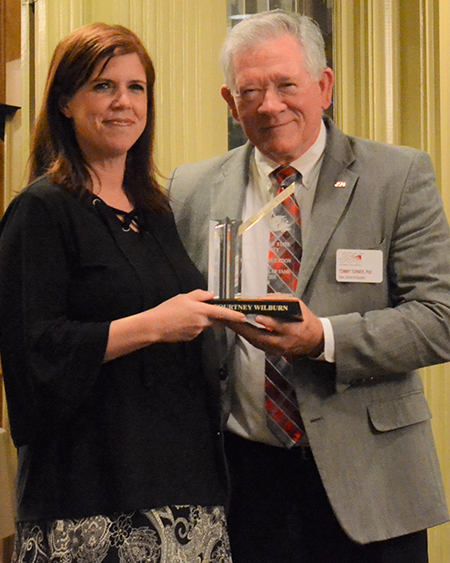 Ms. Courtney Wilburn
Instructional Leadership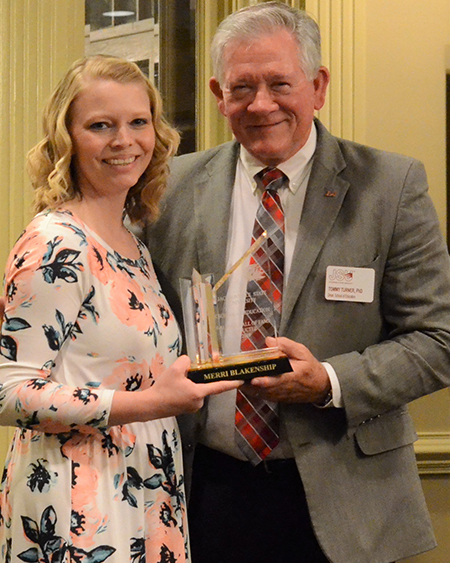 Ms. Merri Blankenship
Family & Consumer Sciences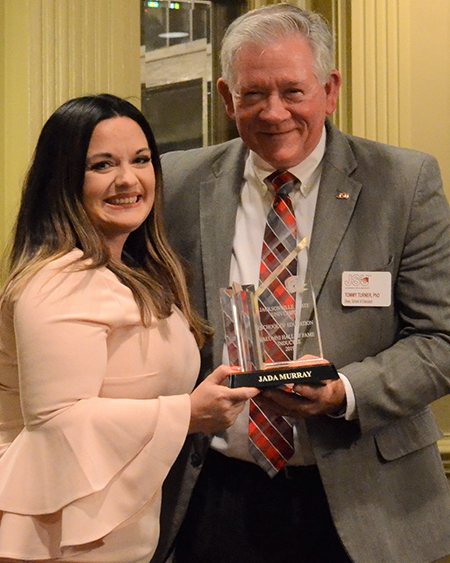 Ms. Jada Murray
Dietetics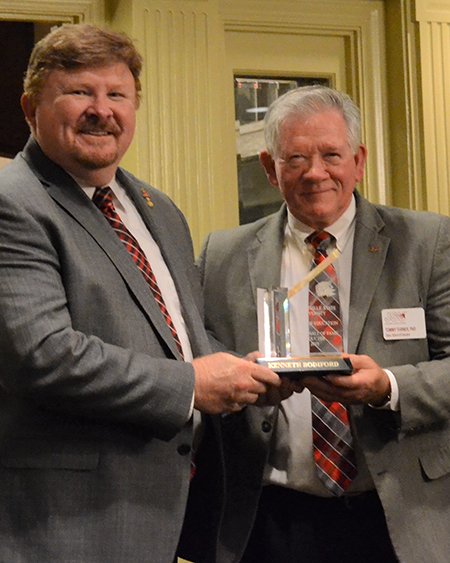 Dr. Kenneth Bodiford
Music Education
Mr. Caleb Hays
Physical Education
Dr. Eric Mackey
Secondary Education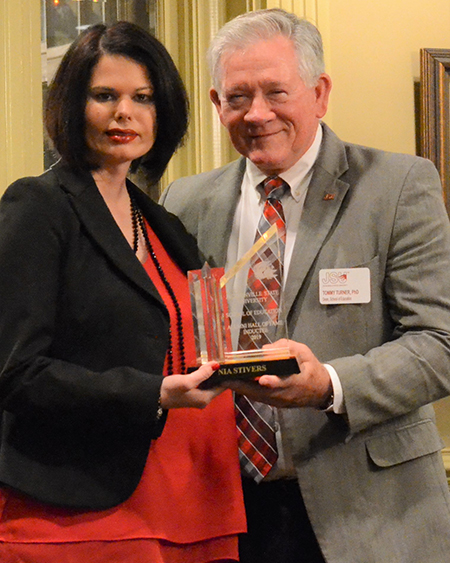 Ms. Nia Stivers
Secondary Education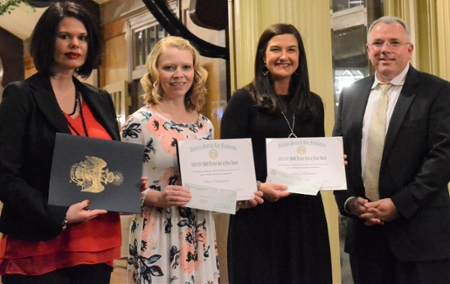 Scottish Rite Certificate & Stipend Winners
Honored for excellence to the teaching profession were, from left: Ms. Nia Stivers, Secondary Education; Ms. Merri Blankenship, Family & Consumer Sciences; and Ms. Ashley Williamson, Elementary Education. Making the presentation was Mr. David Lakin, Scottish Rite Foundation of Alabama.
A 50 Year History of the Jacksonville State University Teacher Hall of Fame
In 1969, Jacksonville State University initiated a Teacher Hall of Fame under the direction of Dr. Houston Cole, who was president at that time. This program was to honor and to recognize the classroom teachers of the public schools in the State of Alabama. No preference was given to nominees that may have attended Jacksonville State University. They must have maintained exemplary standards of behavior and ethics, exhibited leadership, been enthusiastic about teaching, demonstrated competency in subject matter, worked well with colleagues and administrators, and constantly sought to encourage, inspire and motivate students toward greater accomplishment.
In 2019, the JSU Teacher Hall of Fame was replaced by the Education Alumni Hall of Fame which is detailed above. 
Past Inductees, JSU Teacher Hall of Fame
Elementary School Inductees of the JSU Teacher Hall of Fame
| | | |
| --- | --- | --- |
| Name | School | Year |
| Ms. Jessie Freeman | Tuscaloosa County | 1969-70 |
| Ms. Mary H. Barron | Tallapoosa County | 1970-71 |
| Ms. Ethel McDonald | Huntsville City | 1971-72 |
| Ms. Mamie Dothard | Talladega County | 1972-73 |
| Ms. Eugenia Shurbert | Birmingham City | 1973-74 |
| Ms. Linnell Orr | Morgan County | 1974-75 |
| Ms. Vera Hitson | Tuscaloosa City | 1975-76 |
| Sister Adrean McLean | Cullman City | 1976-77 |
| Ms. Marie K. Freeman | Cullman City | 1977-78 |
| Ms. Margie Wingard | Sylacauga City | 1978-79 |
| Ms. Hazel R. Buckner | Enterprise City | 1979-80 |
| Mr. Marlin Raney | Cullman City | 1980-81 |
| Ms. Onita Archie | Coffee County | 1981-82 |
| Ms. Mary Ann Blackmon | Tuscaloosa City | 1982-83 |
| Ms. Brenda Weakley | Enterprise City | 1983-84 |
| Ms. Jenny Moore | Calhoun County | 1984-85 |
| Ms. Virginia B. MacRae | Calhoun County | 1985-86 |
| Mr. David Shockley | Etowah County | 1986-87 |
| Ms. Celina Costa | Birmingham City | 1987-88 |
| Ms. Miria K. King-Garner | Etowah County | 1988-89 |
| Mr. Ray Allen Landers | Attalla City | 1989-90 |
| Ms. Jane Burdeshaw | Montgomery County | 1990-91 |
| Ms. Leslie Black | Tuscaloosa City | 1991-92 |
| Ms. Mildred S. Woods | Talladega City | 1992-93 |
| Ms. Joan Smithey Dawson | Jefferson County | 1993-94 |
| Ms. Lora Venita Chatmon | Calhoun County | 1994-95 |
| Ms. Margaret Taylor Cherry | Talladega County | 1995-96 |
| Ms. Rebecca McKay | Oxford City | 1996-97 |
| Ms. Gwen J. McCorquodale | Hoover City | 1997-98 |
| Ms. Rebecca Graf | Shelby County | 1998-99 |
| Ms. Ramona Hall | Albertville City | 1999-2000 |
| Mr. Billy Jenkins | Etowah County | 2000-2001 |
| Ms. Faith Murphy Roberts | Mobile County | 2001-2002 |
| Ms. Aleisha Darlene Blevins | Jacksonville City | 2002-2003 |
| Ms. Wanda Meadows Pollard | Albertville City | 2003-2004 |
| Ms. Linda T. Johnson | Blount County | 2004-2005 |
| Ms. Celeste Weaver | Cullman County | 2005-2006 |
| Ms. Ellan Deinlein | Hoover City Schools | 2006-2007 |
| Ms. Beverly Rader | Eufala City Schools | 2007-2008 |
| Ms. Sabrina Lynch | Shelby County Schools | 2008-2009 |
| Ms. Mary White | Anniston City Schools | 2009-2010 |
| Ms. Deborah Blalock | Hoover City Schools | 2010-2011 |
| Ms. Katie Oliver | Jasper City Schools | 2011-2012 |
| Ms. Tracey Pruitt | Dothan City Schools | 2012-2013 |
| Ms. Tammy Davis | Oxford City Schools | 2013-2014 |
| Ms. Jacqueline Pierce | Butler County Schools | 2014-2015 |
| Mrs. Traci Ingleright | Gwin Elementary Schools | 2015-2016 |
| Mrs. Jeri-Lynn Martin | Alexander City Schools | 2016-2017 |
| Mrs. Geri Evans | Hoover City Schools | 2017-2018 |
Name
School
Year
Ms. Sally Jane York
Guntersville City
1997-98
Ms. Susan Humphries
Albertville City
1998-99
Ms. Deborah Camp
Hoover City Schools
1999-2000
Ms. Nancy Adams Waldrop
Albertville City
2000-2001
Ms. Kimberly Anne Bain
Hoover City Schools
2001-2002
Ms. Carol Lollar
Hoover City
2002-2003
Mr. Gary Black
Shelby County
2003-2004
Ms. Kim Yarboro
Hoover City Schools
2004-2005
Ms. June S. Glenn
Hoover City Schools
2005-2006
Mr. Jeffery Richardson
Hoover City Schools
2006-2007
Mr. Jeff Denny
Shelby County Schools
2007-2008
Ms. Dihani Uswatte,
Hoover City Schools
2008-2009
Ms. Anita Isreal
Hoover City Schools
2009-2010
Ms. Patricia Cook
Butler County Schools
2010-2011
Ms. Kathrine Pickens
Butler County Schools
2011-2012
Mr. Philip Jenkins
Talladega County Schools
2012-2013
Ms. Laurie Brasher
Pell City Schools
2013-2014
Ms. Johanna Morgan
Talladega County Schools
2014-2015
Mrs. Marva Raby
Hoover City Schools
2015-2016
Ms. Thomasena Garner
Madison City Schools
2016-2017
Dr. James Wilder, III
St. Clair County Schools
2017-2018
Name
School
Year
Ms. Dora Gene Hill
Gadsden City
1969-70
Ms. Dody Jennings
Piedmont City
1970-71
Ms. Ruth Brown
Oxford City
1971-72
Ms. Martha Taylor
Haleyville City
1972-73
Ms. Kathryn Reeder
Enterprise City
1973-74
Ms. Myra Wilson
Pike County
1974-75
Ms. Sallie B. Cook
Tuscaloosa County
1975-76
Ms. Dora Perryman
Sylacauga City
1976-77
Ms. Rossie Cofield
Randolph County
1977-78
Mr. Edwin R. Watkins
Tallassee City
1978-79
Ms. Fay Simpkins
Sylacauga City
1979-80
Mr. William Merriweather, Jr.
Birmingham City
1980-81
Ms. Annie Evelyn Nichols
Bibb County
1981-82
Ms. Martha Gallo
Daleville City
1982-83
Ms. Charlotte Holley
Attalla City
1983-84
Ms. Mary B. Starke
Russell County
1984-85
Mr. Joseph L. Parish
Geneva City
1985-86
Ms. Suzanne P. Smith
Sylacauga City
1986-87
Mr. Paul Joseph Allred
Jacksonville County
1987-88
Mr. David Patterson
Jackson County
1988-89
Ms. Nancy C. Horton
Cullman County
1989-90
Ms. M. Jennie McConnell
Montgomery City
1990-91
Ms. Laurie Bauer
Tuscaloosa County
1991-92
Ms. Gennette F. Meeks
Walker County
1992-93
Mr. Robert Stephen Ricks
Talladega County
1993-94
Ms. Linda Rourke McAdam
Talladega County
1994-95
Ms. Lue Ruth Colvin
Bessemer City
1995-96
Ms. Pamela Henson
Baldwin County
1996-97
Ms. Desiree V. Bishop
Mobile County
1997-98
Mr. Anthony Walker
Shelby County
1998-99
Ms. Pamela Inmon
Jacksonville City
1999-2000
Ms. Patricia Powell-McCullers
Monroe County
2000-2001
Ms. Carolyn Harris Serviss
Calhoun County
2001-2002
Ms. Yvonne Reed Matthews
Mobile County
2002-2003
Ms. Earnestine Calhoun Giles
Tuscaloosa County
2003-2004
Ms. Deannia Smith
Oxford City Schools
2004-2005
Mr. Stoney M. Beavers
Blount County Schools
2005-2006
Ms. Patsy Lowrey
Tuscaloosa City Schools
2006-2007
Ms. Shelia Remington
Tuscaloosa City Schools
2007-2008
Ms. Kina Teaford
Calhoun County Schools
2008-2009
Ms. Amber Barnes
Tuscaloosa County
2009-2010
Ms. Scottie Wilson
Hoover City
2010-2011
Ms. Stephanie Mathews
Calhoun County Schools
2011-2012
Ms. Barbie Nelson
Dothan City Schools
2012-2013
Ms. Amanda Beason
Leeds City Schools
2013-2014
Dr. Pamela Harmon
Hoover City Schools
2014-2015
Mr. Ruben Mitchell
Anniston City Schools
2015-2016
Mrs. Dawn Howard
Shelby County Schools
2016-2017
Mrs. Nefertiti LeBeaux
Talladega County Schools
2017-2018